Subscribing to a weekly organic produce delivery is a great way to eat with the seasons as well as support local agriculture. We are finally getting into the groove with our regular subscription.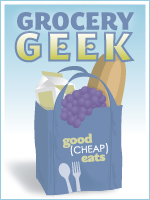 We started our produce box subscription back in late August. It's been an amazing journey to eat with the California seasons and try out new foods. My kids have really liked some of them, and really not liked others, but we keep plugging along.
I'm trying not to waste anything; the freezer helps me avoid that as long as I process things quickly enough. Last week was the first week that we were able use almost everything. We still have that ginormous butternut squash in the pantry. His little brother arrived this week, so we'll be having a squash fest sometime soon. My plan is simply to roast and puree them to use in baking.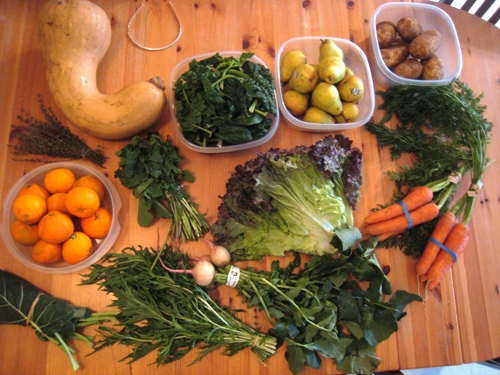 This week's box contained squash, clementines, thyme, collard greens, mustard greens, arugula, spinach, lettuce, watermelon radishes (red on the INSIDE!) pears, carrots, and potatoes. The greens are already gone as are the radishes and the oranges, so we're on track to make best use of all these items. I also bought an extra bag of juicing oranges ($5 for 10 pounds), so our produce bill was $43.90 for the week for all organic produce.
I made one other stop – at Trader Joe's, in part for "fun food" and part for the basics. I'm really not doing coupons anymore, I just can't spare the time. And since I'm more bothered by food sources, hormones, and GMO's than I was a year ago, Trader Joe's is my best bet. The prices are reasonable, though not rock bottom and they offer some great guarantees on their products.
Like I said before, I've chosen to narrow my field of choices. As such, the challenge is on for sourcing the best ingredients for the best prices. I think I got the produce thing covered. Now to the rest of it.
The above Trader Joe's run cost $87 which seems like a lot to me. But, seven loaves of bread, 2 gallons of milk, 2 pounds of butter, 3 pounds of oranges, 2 dozen eggs, etc. will add up. Trying to convince myself more than you, I think.
My weekly total lands right around $131. Not horrible. My monthly total for December is up to $370. If I stick to my target of $600, we could squeak under, but with Christmas, I'm willing to budge if necessary. I kind of have this $600 to 800 range in my mind. We've been eating at home a lot, so we're not spending monies on eating out. And we've got two full freezers to make the most of. So, we're good.
And that is all I'm going to say about that.
Do you struggle in your grocery shopping?