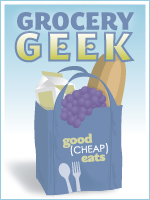 Attentive readers will remember that I was lamenting the high cost of groceries these days. And then you will recall that I diagnosed my "problem." A step away from highly processed foods has narrowed the field of choices.
Narrowed, yes, but not closed it off completely. I'm coming to peace with the fact that I will probably continue to pay more for groceries than I did four years ago. I have more children, bigger children, and I'm just not interested in chasing every deal, processed food or not.
Thankfully, we have a little wiggle room in our budget to allow for me to be a little more selective. But, we're still going to be enjoying lots of rice and beans! With a smile.
This week's grocery haul included a plentiful produce box. I was amazed at the abundance. Truly, Abundant Harvest Organics has been a great find.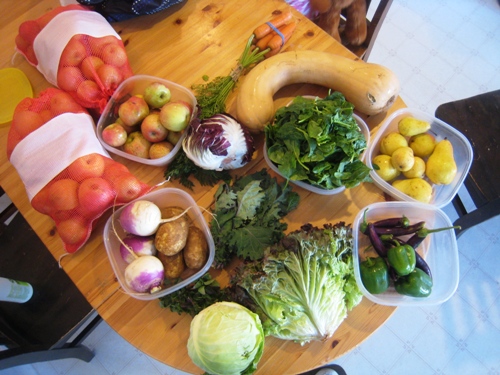 I think we're set for fresh produce in the coming weeks! I spent a little under $60 for all this organic food, including 20 pounds of apples. And believe me when I say that that squash is almost as big as my three year old. That gives you an idea as to the size of our harvest this week. Everything is really good sized.
Also on my shopping radar this week was an aisle-by-aisle stroll through Costco. Yes, it was pricey ($179). But, I am hoping that I've got the basics under my roof for the rest of the month.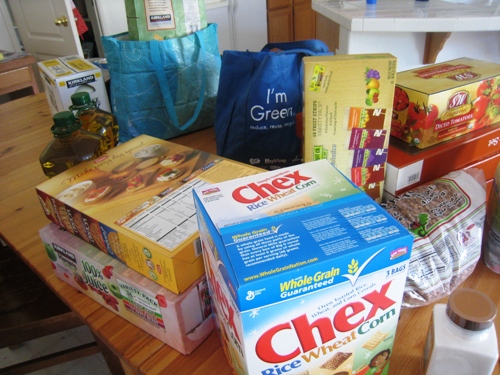 Except for milk and other dairy products and the other two produce deliveries we have this month, I think we're good. I won't "have to buy anything" unless I want to.