Building a frugal pantry can be as simple as buying a pantry staple on sale in large quantities. Since you know you will use it in a reasonable amount of time, it's in your best interests to buy a lot at a low price.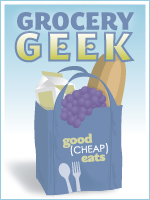 This week was a week of stockpiling in some areas. Maybe it was because I was under the weather and sought comfort in a full pantry or maybe I just wanted to feel productive. Either way I made an effort to buy things that would see us into the new year.
That is to say, some of these things will last until January, others are already gone!
We are bursting at the seams with fresh produce, as you will see, so I think we're good for the month. Here's the grocery geek review of the week:
Trader Joe's: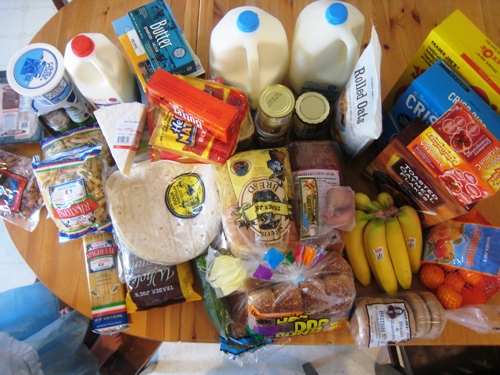 On Sunday afternoon I cruised by Trader Joe's for our regular milk and bread and misc round-up. I could have bought most of these things at Costco, but I'm avoiding that place. Gives me hives to think about the crowds that must be there. Cereal, oats, Emergen-C, milk, bananas, clementines, butter, cheeses, eggs, pasta, a round of breads, tortillas, almonds, hot dogs, lunch meat, and pretzels as well as a few canned goods worked out to be about $107.
And yes, the cereal, milk, fruit, and tortillas are already gone.
Sprouts: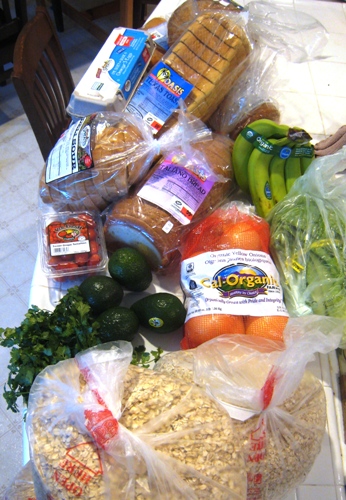 On Wednesday, the kids and I invaded Sprouts where we scored at the bread rack, buying 6 packages of baked items for $0.99 each. Most went promptly to the freezer. Sprouts also had 25% off all bulk items. Quick work on my calculator told me it was a stock up price on oats and rice ($0.74/lb) so we bought 15 pounds.
We picked up some organic produce that wasn't going to be in our box: bananas ($0.88/lb), romaine ($0.88/lb), avocados ($0.88/ea), grape tomatoes ($2/box), onions ($2/3lb bag) and conventional cilantro ($0.33/bunch). And unpictured are three pineapples for $0.99 each. We also got eggs ($2.50/dozen for Omega-3), sour cream ($0.99/pint) and organic whipping cream for $2.50.
The grand total at Sprouts was $45.
Abundant Harvest Organics: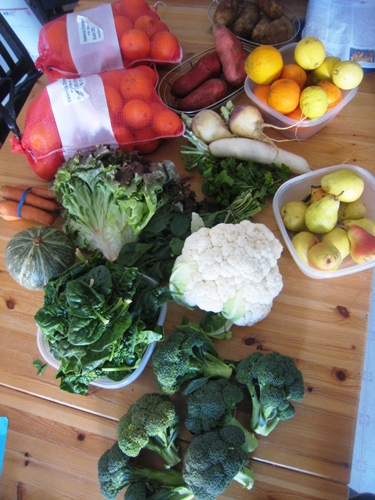 Finally, we picked up our last produce box of the year. It was quite abundant with broccoli, the largest head of cauliflower I've ever seen, pears, oranges, lemons, mint, arugula, spinach, red leaf lettuce, kabocha squash, daikon radish, rutabagas, sweet potatoes, carrots, and potatoes. I bought add-ons of oranges and mint, bringing our total to $51.
Weekly total was: $203
Monthly total to date: $570
I'll be honest, we probably will go over the ideal $600 for the month. We will run out of milk and cheese. And I intend to scour the post-Christmas grocery sales. But, we should be fairly close. We are set on bread, grains, and vegetables. 🙂