Enjoy jalapeno poppers, but wondering how to tame the heat? Rice and dairy cool the flames, while bacon keeps it flavorful.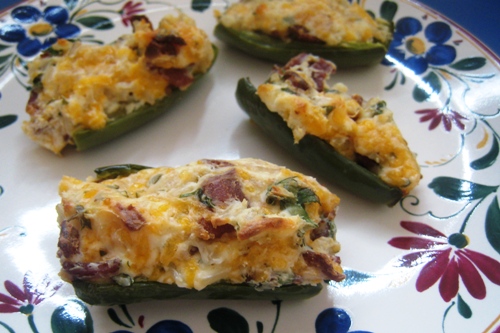 I love, love, LOVE jalapeno poppers. But, sometimes they can be so flaming hot that it can give me a tummy ache if I eat too many. Recently, I decided to experiment and see if I could create a popper that was packed with flavor but didn't punch me too hard in the gut.
I knew dairy would soften the blow as would brown rice. So I played around and came up with these delicious bites filled with rice, two cheeses, bacon, and cilantro. Yum! You're going to love these for your next game day or other family get-together.

Recipe: Easy Jalapeno Poppers with Bacon and Rice
Ingredients
1 dozen jalapeno peppers, split and seeded
6 slices bacon, chopped, cooked until crisp, and drained
8 ounces cream cheese, softened
1 cup shredded cheddar cheese
1 cup cooked brown rice, cooled
1/4 cup chopped cilantro
1/2 teaspoon ground cumin
Instructions
Preheat the oven to 400°. Lay the peppers on a rimmed baking sheet.
In a small mixing bowl, combine the bacon, cream cheese, cheddar cheese, rice, cilantro and cumin. Stir well to combine.
Fill peppers with the cheese and rice mixture, dividing it evenly.
Bake peppers for 10 to 15 minutes until peppers are soft and filling is hot and bubbly.
Preparation time: 15 minute(s)
Cooking time: 15 minute(s)
Number of servings (yield): 8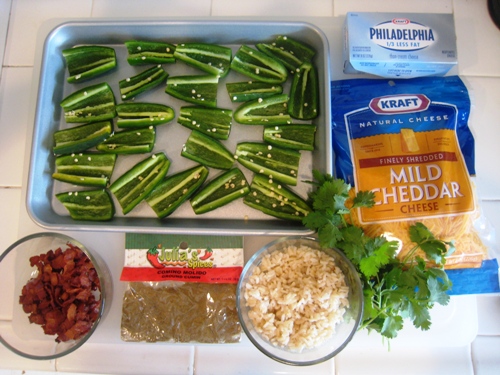 Huddle to Fight Hunger
Recently, Kraft invited me to join their Huddle to Fight Hunger team. Over the next month, I'll be sharing a variety of tailgate recipes (which can definitely double for holiday parties) featuring certain Kraft brands. Kraft will be donating 1000 meals to local food banks (up to 4000) for each recipe I share. So excited to be able to partner with them in this way!
You can hop over to Kraft's facebook page for more details. For each "like" they receive is another meal for someone less fortunate. And you can specify that your free meal go to your local community. You'll also have the opportunity to earn more meals to be given away by playing their facebook trivia game.
What's YOUR favorite game day snack?
Disclosure: Kraft Foods has provided me with a gift card to offset ingredient expenses; however, all opinions expressed here are my own.