Making homemade pomegranate jelly is so fun! And it's super easy when you use bottled juice.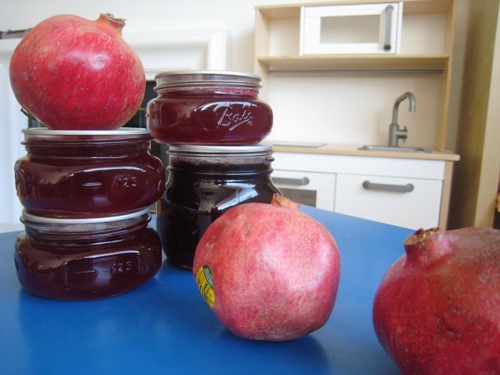 Awhile back I shared my preparations for Operation Pomegranate Jelly. I ended up making two batches — one with bottled juice and one with freshly squeezed juice. It was an experiment of sorts. A delicious one.
I largely took my guidance for water bath canning from Ball Blue Book Guide to Preserving. It's also available at Walmart for about 5 bucks if you just want to go grab a copy.
Here are the basic steps to making jelly:
1. Gather supplies.

2. Sterilize the jars. (I used the dishwasher.)

3. Fill a small pot with hot water to hold the bands and lids. You're going to put hot jelly in a hot jar and seal it with a hot lid and hot band. So, you need to get everything ready ahead of time.

4. Fill your water canner with water and start it heating.

5. Begin the jelly recipe. I used this recipe for pomegranate jelly from Simply Recipes, mainly for the proportions, then I followed the directions on the package of Sure Jell. For my first batch I used Bolthouse Pomegranate juice, Sure-Jell pectin, evaporated sugar cane juice instead of white sugar, and bottled lemon juice.

Heat the juice and pectin. Bring the mixture to a boil. Stir in the sugar. Return to a boil. Boil 1 minute. Easy peasy.

The directions are on the box of Sure-Jell. This process took about ten to fifteen minutes.

6. Fill the hot jars with the hot jelly. Fit hot lids and bands securely. Place each jar in the rack of the hot water canner as it is filled.

7. Once all the jars are filled, lower the rack into the hot water. Cover. Bring the water to a boil and process for 5 minutes.

8. Remove the jars from the water bath and set them on a towel on the counter. Allow the jars to cool undisturbed for 12 hours.

9. Remove the bands and check the seals on the lids. They should be vacuum sealed and impossible to pry loose with your fingers.

10. Enjoy homemade jelly at your leisure.
This entire process was unbelievably easy. My one beef with the experience was that some of the jars I had bought years ago were square-bottomed Ball jars that do not fit in my canner's rack. Very frustrating to have the jars sitting lopsided in the canner. It all worked out in the end, though.
You can make homemade jelly with almost any acidic juice. See Ball Blue Book Guide to Preserving for more recipes. And since I am, in no way, a Master Canner, consult the book for more information about canning in general. I share this process mainly so you can see how terribly easy it is!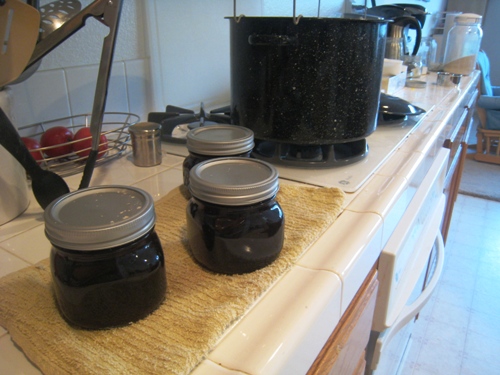 Be forewarned, though, jelly making is almost addicting. It's so exciting to see those jars line up.
Coming soon: Pomegranate Jelly from fresh pomegranates!