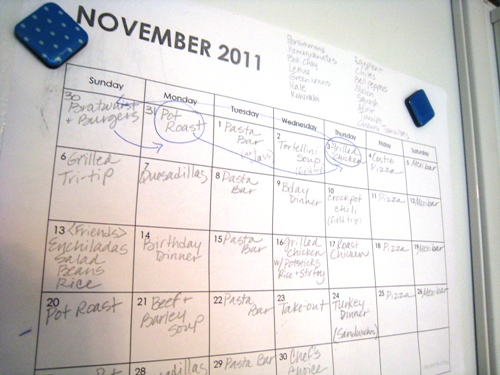 This is a snapshot of my month's meal plan. It stays magnetized to my fridge door so that I always know what's on the menu. As you saw last week, these are pretty straightforward meal plans.
They are also very subject to change.
I pulled a few switcheroos this week, accommodating for meats that failed to thaw in time — and cooks who failed to pull things from the freezer in time. Ha!
This week our meal plan looks like this:

Breakfast
Serve-yourself-breakfast-bar, consisting of:
Artisan Bread in 5 Minutes a Day (just taught my 9yo to make it)
Baked Goods (quick breads, muffins, biscuits)*
Pancakes or Waffles (precooked and frozen)*
Juice
Applesauce or seasonal fruit

Lunch
A regular rotation of:

Dinners
Easy dinners that make use of the grill, the griddle, or the crockpot. Oh, and several buffets, too!
6. Grilled tri-tip, baked potato, salad
7. Quesadillas, salad
8. Pasta bar: lots of noodles, two kinds of sauce, garlic bread, salad
9. Bday dinner – Kid's choice
10. Chihuahua Chili, cornbread
11. Pizza Night
12. Mexibar: taco filling (like Carnitas), toppings, tortillas (maybe homemade), taco shells or chips
 What's cooking at your house?
Visit OrgJunkie for more meal planning inspiration.