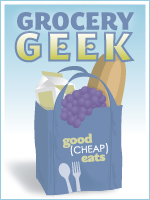 It appears that as soon as I decide I'm gonna get back into "deal shopping" and try to rebuild a stockpile, that these sales magically come out of the woodwork that weren't there before. I have a hard time keeping myself away.
My shopping this week involved some basics to accommodate my week's meal plan as well as some stockpiling.
CVS: I did the toilet paper/gift card deal one more time, rolling my gift card from the earlier trip. Spent another $20 out of pocket for three large packages of TP and one package of paper towels.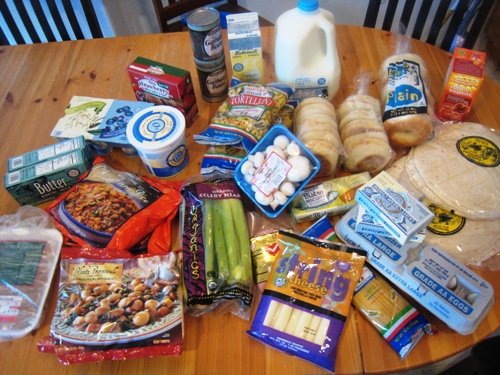 Trader Joes:  I hit up Trader Joe's for some basics. TJ's is not the cheapest, but as I've mentioned before, it does have some "healthier" items for reasonable prices. Grocery geek fail, though. I didn't notice how EXPENSIVE the Polenta Provencale was until after everything was said and done. At $3.59/package, it was a pricey convenience splurge that I probably won't make again. I guess I'll need to learn how to make it myself. (Gulp)
I spent $78 at Trader Joe's.
Ralphs: Our produce box has been light on snackable fruit, so I stopped at Ralphs for the organic apples @ 79cents/pound. Since I was also doing freezer cooking that day, I picked up a bag of sugar – $2.99! But, the organic sugar at TJ's was even more expensive. While at Ralphs, I found out that our favorite coffee was on sale — and I knew I had coupons at home.
I did some internet searching and found out Ralphs started a Mega event early. Score!
So, I went back the next day: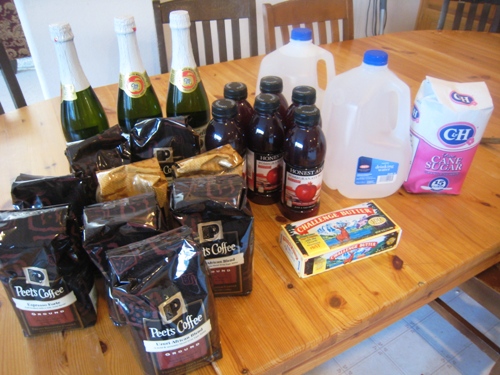 Yes, I bought nine packs of coffee. Turns out, I did the very same thing last year. See? For the very same price. Weird.
The deal last year and this year was to buy any 10 of certain items and get $5 back. I bought 20 items this week:
coffee – $7.99/12 oz package
sparkling apple cider to make these babies or just have for birthdays and the holidays- $1.99
juice drinks to stuff stockings with – $0.49
sugar – $2.49
I also got 2 more gallons of water to add to our emergency stash. Total spent at Ralphs for both trips: $91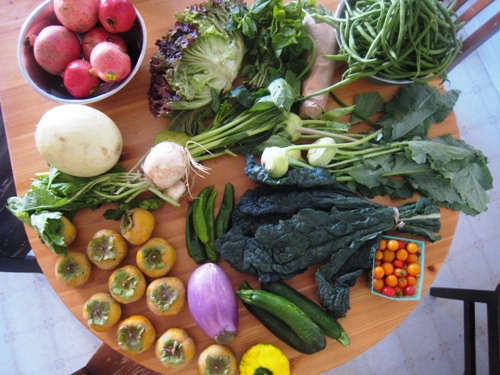 Produce Box: This is proving to be a heavier week for groceries as I ordered extras for the produce box before I knew I was going to stock up on coffee and TJ's splurges. We've got ten pounds of oranges (not pictured) for juicing and a bunch of chocolate mint to make mint syrup. Included in the weekly box were persimmons, pomegranates, bok choy, lettuce, green beans, kale, kohlrabi, eggplant, chiles, bell peppers, melon, squash, mint, turnips, and cherry tomatoes. I paid $44.80 for all the produce.
Total spent this week $234!
I blame the coffee. Without the coffee, I would be right on target. That said, I'll need to pay really close attention to how I spend in the coming weeks. Could be hard since Thanksgiving sales will be coming. So, we may be eating out less in order to feed my grocery geek habit.
Creative thinking led me to set our produce box "on vacation" for an extra week this month. I'll still get a box next week, and then there will be two weeks off. We have enough produce frozen, and I can supplement with grocery sales "as needed," to get us through, but that is an extra $70 or so dollars back in the kitty for the month.
The most important thing is that we didn't spend money we don't have. We will just have to move previously allocated funds from something else to make the numbers all jive in the end.
Do you keep a regular weekly grocery budget or do you have wiggle room?