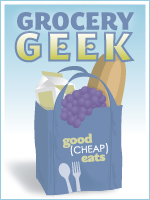 I went shopping at Target this week for birthday presents for my older daughter. There were a few grocery items on my list. But, says I, they'll be cheaper at Walmart. So I waited.
Then yesterday our littler girl was sick with the stomach flu and a fever. We needed a few comfort foods like yogurt and applesauce, and of course, I had stuff on my list still, so I thought, I'll just go to Walmart. 
Folks, I was stunned. Walmart was not the low price leader. Well, if they are/were, everyone else's prices have to be astronomical. I was really taken aback. Since my brain is kind of weird and keeps a mental price book, I was having a hard time walking the aisles. Everything seemed at least 50% higher priced than my stock-up prices.
And Walmart has traditionally been my stock-here-when-all-else-fails kind of place. It gives me pause.
It also explains why the grocery money is going so quickly! Here's what we got this week:
I went to Costco early in the week for milk, cheese, bread, pasta, mayo, dairy items, bananas, turkey, chips, oregano, and fruit leathers. The bread is almost gone as is the milk, but we're good on some of the other items going into this week. I spent $100 total.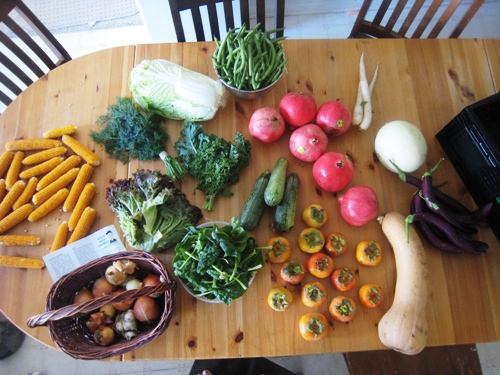 Our produce box was particularly abundant with spinach, lettuce, dill, kale, zucchini, cabbage, persimmons, green beans, daikon radish, melon, eggplants, onions, garlic, and that ginormous butternut squash. I haven't even made a dent in any of this yet. And I still have melons and butternut squash from previous weeks. So today I'm cooking up a big vegetable pasta sauce as well as an Asian styled salad.
I also bought that popcorn as an "extra." You can pop it in a paper bag in the microwave — on the cob! More on that later.
I spent $49.70 on produce.
I made a miscellaneous trip to Sprouts and spent $22 and the aforementioned trip to Walmart for yogurt and other sick tummy items as well as some general grocery items I couldn't find elsewhere. I spent $50!
So, I went over my week's budget again, having spent $200. Part of those expenses include food for two birthdays as well as some convenience items, but really, I wasn't being extravagant. We have plenty of food in the cupboards, and lots of produce. But, I still have a couple turkeys to buy as well as some other Thanksgiving items. Clearly some clever strategizing is in order.
There's a war out there. And I will not go quietly.