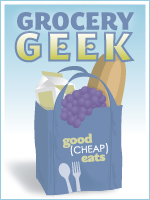 I discovered the source of my grocery angst this week when the grocery sales flyers came out. The sales are good, to be sure. This week. (I'm not sure why the stores held out so long, but they did.)
However, since I've adopted some new food philosophies, I still felt a little let-down. Many of the things that are on sale, things that I would have previously filled my pantry with, are not necessarily things that I want to buy today. In my efforts to move us away from processed foods, I've narrowed my range of choices.
And, yes, it's a choice.
No one is forcing me into it. But, after reading a number of books encouraging a return to less processed foods, I want to make an effort. I'm not giving up everything processed. But, I'm shooting for 80%. And that effort is going to have to involve my pocket book.
That said, a lot of organic and unprocessed ingredients were still on sale this week. And while $1.99 for 5 pounds of organic potatoes doesn't compare with 10 pounds of conventional for $0.99, it is still a lower price than normal. And that was something I had to remind myself of this week when I was scanning the ads. Organic may not be as cheap as regular, but grab the sales when you can.
(I am also lamenting the fact that I put the produce box on vacation this week. The boxes were full of the ideal ingredients for Thanksgiving dinner. Lesson learned.)
Grocery shopping was expensive this week. As it was last week. And the week before. And I'm still trying to come up with a game plan to keep our budget low without compromising my new baby steps: organic produce, unprocessed sugars, less processed food in general.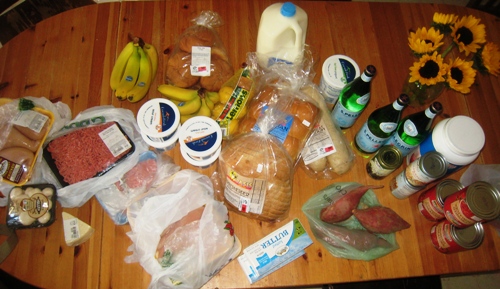 Sprouts
I bought a fair amount of  stock up items at Sprouts, namely chicken breast (on sale – $1.77/pound), ground beef and pork, sour cream ($0.99/16 oz.), hormone free butter ($3/lb), potatoes, Pellegrino ($1.25/bottle). The whey protein was pretty pricey at $26.99, but that helps keep my man-child full.
I spent $110 on all that is pictured, including a splurge on a rotisserie chicken to take home and make into chicken noodle soup for sick kids.
And that was all she wrote, folks. I still need to buy a bird, still trying to figure out what kind I want. But, I have most everything we need for Thanksgiving.
Do you have grocery angst?