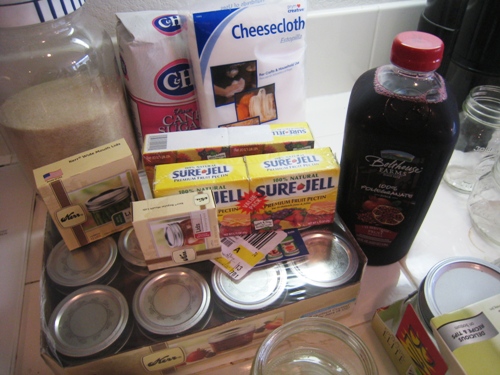 So, I got this wild hair that I was going to make pomegranate jelly. I love the flavor of pomegranate — and it's good for you, too. I also have fond memories of when our neighbor would bring a jar over every fall. It was so good!
When pomegranates showed up as an add-on for our produce co-op, I signed up for a bag of 10 pounds of pomegranates for $5. My kids love to eat them and at 50 cents a pound, I figured that was a great price. They could snack and we could try our hand at jelly.
The operation is set to go into effect today and tomorrow. I'll be reporting back later. So far, here's what's gone into this adventure, quest, thing:
1. Research
I started scouring the net for ways to juice pomegranates. I find a number of options: use a citrus juicer, use the food processor or blender, or put the arils in a ziploc bag and run over them with a rolling pin. We will probably do all three.
I say "we" because this is quickly becoming a homeschool project.
When I asked Mara what the best way to juice a pomegranate was, she said to buy the bottle. Ha!
Her comment did get me thinking, though. So, I did that at Costco over the weekend. It was a little more than 6 bucks for a liter of juice.
We'll be making two batches of jelly: one with bottled juice, one with fresh juice.

2. Supplies
It took two trips to Walmart to get all the things we needed, like extra sugar, pectin, and cheesecloth. Just so you know, cheesecloth is currently in the Halloween section. Sheesh.
I also dug out my canning supplies from the garage. I have a water canner as well as a slough of canning jars from days gone by.
3. Reading
I also bought the updated Ball Blue Book. I had an old one from about 13 years ago. The new edition is updated with a lot more recipes, including pomegranate jelly. I read through the sections on jelly making and had my helpers do the same.
Stay tuned for our progress as we carry out Operation Pomegranate Jelly.
Do you can?