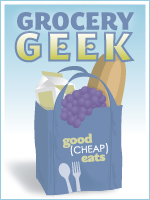 I've always been one to enjoy grocery shopping. I love food. I love cooking. I love to find great deals.
I've been posting my grocery finds over on Life as MOM for the last three years as a way to encourage others to save more on groceries — as well as just brag on the good deals I've found. (Just saying.)
I decided to share my grocery geekiness over here on Good Cheap Eats instead. It makes sense that grocery shopping and good cheap eats go well together.
Being a grocery geek leads to good cheap eating.
But first some history….
Three and a half years ago, my grocery shopping looked a lot different than it does today. I had five children with one on the way. The oldest was 11. We lived in Kansas City and were actively fighting our way out of debt which resulted in a very tight grocery budget, $100/week.
Coupons and deals were plentiful. And we saw a huge boost in the quantity of food I was able to acquire for the same price once I started couponing. We were practically swimming in boxed cereal!
Today we've got six kids, ranging in age from 3 to 14. We live in Southern California where the cost of living is a tad bit higher. Now that we've paid off our debts and are living debt-free, our grocery budget is a little bigger, about $150/week, but sometimes ranging as high as $200.
Coupons and deals are not quite as plentiful as they once were. And California grocery stores have stricter coupon policies than other states. I've had heart palpitations over the amount of boxed cereal my children waste, so I've stopped buying it. (I also can't find it as cheap as I once did.)
Overall, the content of my grocery shopping trips has changed somewhat. I've also done some reading on nutrition, politics, and the US food supply which has me rethinking some of our eating habits.
Here's a peek at some of our changes: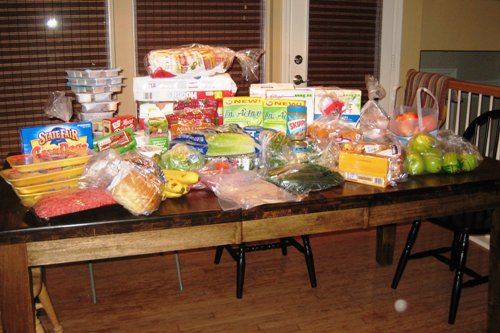 This is a sample grocery haul from that time three years ago. I spent $106, shopping at five stores. I also bought a lot of things that I don't typically buy anymore: processed chicken nuggets, cake mixes, lunch kits, boxed cereal, and diapers. Those just aren't things that I buy these days. We also discovered a nut allergy in one of the kids, so that has curbed some of our convenience purchases as well.
I'm trying to cook more from scratch and focus on less processed foods. As we've been able to pay our debts and squeeze a little more cash into the grocery budget, I've also been able to include more organic produce as well as be a little pickier about the ingredients and convenience items we do buy.
I don't say this in a snobby way. I'm very thankful that I was able to buy those processed foods for free or cheap. That is what helped get us get out of debt.
Today, we're able to approach grocery shopping a little differently because we worked hard to pay our debts.
At our recent money meeting, hubs and I decided to tighten the belt a little so that we can divert more of our income to savings. I'm still concerned about getting the best deals that I can, but I'm also trying to balance that with better quality and nutrition when I can. It's a fine line.
The week's shopping
Here's my grocery geek haul of the week:
Costco – Costco is my go-to source for all kinds of basics, like dairy or bread. Over the weekend, I headed to Costco to pick up some random things that we were out of: Advil, chips, milk, bread, vinegar (for cleaning), bacon, potstickers, and juice. I spent $80.
Sprouts – Sprouts is one of my favorites for marked down bakery items as well as sale prices for fresh produce and meat. This week I spent $6 on cilantro, 49 cent avocados, limes, and a package of dinner rolls.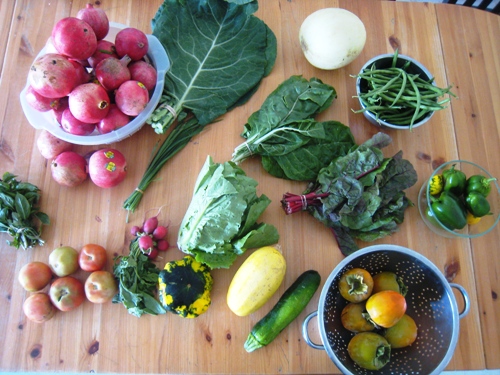 Abundant Harvest Organics – Every Wednesday I pick up a large produce box from Abundant Harvest Organics. It's been a wonderful journey toward healthier eating. The box costs $37.80 per week, contains only organic produce, and definitely provides enough fruits and vegetables for our family of 8. There have been weeks when I've ordered extra fruits to process for the freezer or to have extra on hand for snacking. Overall, the box has definitely been abundant.
It has been a little bit of a stretch to learn how to use new ingredients. Yu choy, persimmons, turnips, sorrel, and fresh herbs are just some of the things I have had a chance to experiment with.
This week I ordered extra pomegranates so I could try my hand at pomegranate jelly. I also bought a bottle of pomegranate juice from Costco so that I could make a batch that way as well. Stay tuned for the in-depth analysis. (And, yes, I am a nut.)
My grocery shopping totals for this month are a little off because we also went on vacation and I took food money out of our vacation fund. But, my overall goal for November is to keep it to $150/week. Not sure if I can pull that off with Thanksgiving, but I'm going to try.
Back to Coupons?
And while I recently thought that I had kissed couponing goodbye, I'm rethinking that decision. It does take a fair time investment that I may or may not, but I know that coupons helped us get out of debt. They have equity with me. So, I don't want to dismiss them lightly.
Instead, I'm trying to get back into the drugstore game and make sure I'm getting the best deals I can on paper goods and toiletries. CVS had some great deals this week to make my reentry a little easier. After browsing the links that The Thrifty Mama shared and scrolling through Coupons.com I felt more equipped to tackle it.
Here's what I got at CVS: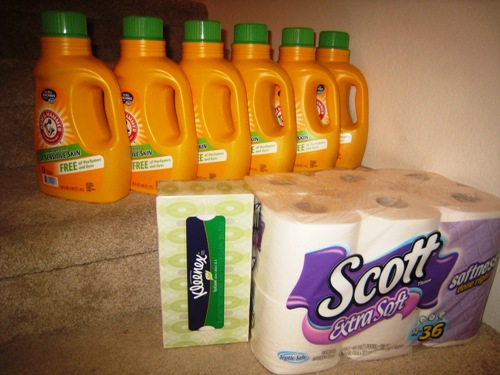 Everything pictured was $30. I ended up not using any coupons, but I did get a $10 gift card for CVS in return, making my investment only $20. This laundry soap will probably last us about 2-3 months. I may go back this afternoon to do the deal again and stock up on toilet paper!
Total spent for the week: $149.80