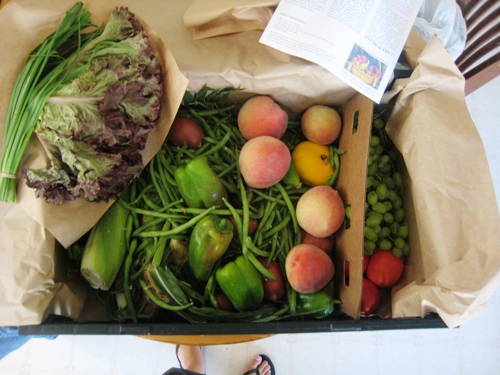 Last year, I tried out a local CSA, or community supported agriculture, membership. We did it for about a month. At the end we concluded that it wasn't the right fit for us. We found that there were a lot of vegetables we didn't normally use and that the price was a little steep for the quantity of produce that we received.
And for the last year, I've really struggled to find a good source of fresh produce that would allow me bulk organic purchases at a price I felt good with. I visited several different farmers markets this summer and left wondering who took the farmer out of farmer's market.
When a reader tipped me off to Abundant Harvest Organics a few weeks ago, I was intrigued because Bethany said there truly was a lot food in the box. The price was about the same as what we paid for the CSA last year, so it was worth a try. If it really was going to be abundant, it could be a good cheap eat!
Above is the large box that we picked up last week. Unpacked, it looked like this: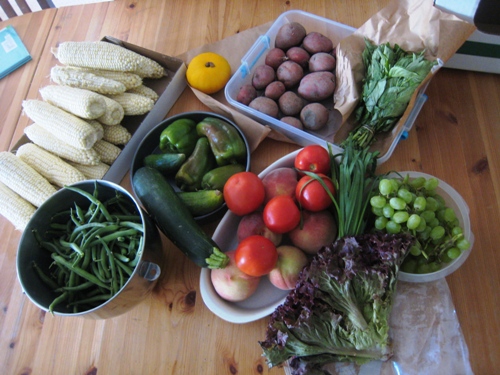 Extras that I ordered separately would include the bunch of basil and twelve of those ears of corn. The regular large box included: seasonal fruit (grapes and peaches), potatoes, chives, peppers, squash, corn, lettuce, green beans, cucumbers, tomatoes, and basil. After extra add-ons, I paid about $48 for this amount of organic produce (all pictured), shipped directly from the growers which are all located in Southern California.
Since Abundant Harvest Organics serves a range of areas within Southern California, I thought there might be a chunk of readers for whom a review might be helpful.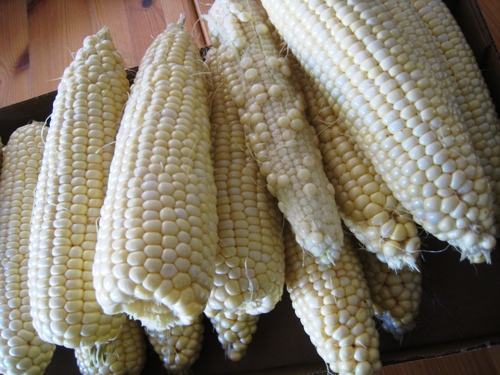 Here are some of my observations so far:
Staff is friendly.
Pickup is easy, quick, and convenient.
Produce is all stuff that I would buy at the store anyway.
Grapes were crunchy — and disappeared within an hour. We ordered an extra 10 pounds for next week!
Melons were missing, but they said they would replace them next week.
Cucumbers, which weren't supposed to be in the box, were very bitter.
Almost all the corn was beautiful! One ear was sad, but that was it.
Much of the produce, like the peppers, beans and corn, could be processed and frozen for later use so that I didn't worry about using it up quickly. I transformed the basil into a French pistou and froze that as well.
It's fun to have someone else do the shopping!
Some of the tomatoes and peaches were outstanding, some were okay.
The bell peppers, though green and not our favorite, were super crisp and disappeared right away.
Price-wise, I would say that this produce and the amount of it was competitive with non-sale conventional as well as sale priced organics. Certainly, I could get more for less if I only bought conventional on sale. But, it wouldn't be as fresh as this or organic.
So far, so good.
Have you tried a produce subscription before?
What's been your experience?
Disclosure: I have no relationship with Abundant Harvest Organics, other than paying them for produce every week. All opinions are my own.