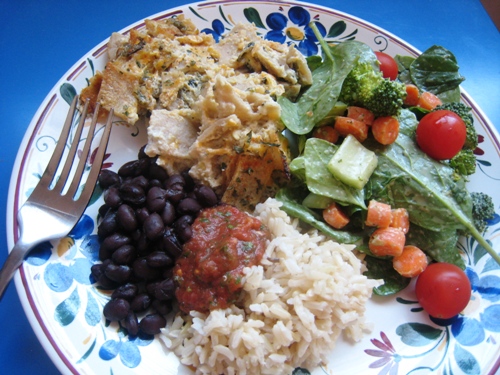 Poblano Chile Enchildas are one of our favorite meals. But they are a little time intensive. Recently, I had roasted a batch of beautiful poblano chiles but ran out of steam to make enchiladas. So, I cheated.
I chopped the chiles, chopped some corn tortillas, and mixed those up with the shredded cheese, sour cream, and salsa verde that I usually transform into enchiladas. I topped it all off with some paprika and parsley for a garnish. Result? Delicious dinner in a fraction of the time.
While it doesn't have all the visual appeal of a rolled enchilada, it certainly carried the tummy appeal. Yes, yes, it did.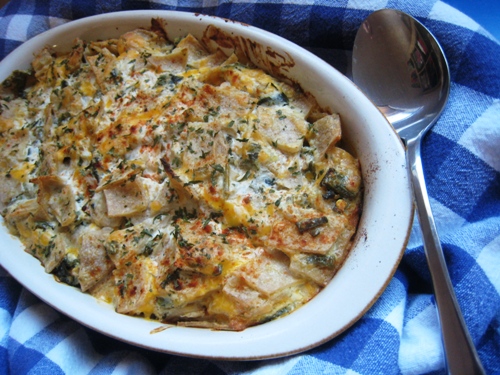 Recipe: Chile Cheese Bake
Ingredients
1 1/2 cups sour cream
12 ounces bottled salsa verde (I like Herdez)
10 to 12 corn tortillas, cut into bite-sized pieces
8 ounces shredded cheddar cheese (about 2 cups)
3 roasted poblano chiles, peeled, seeded, and diced
1/8 teaspoon paprika
1/2 teaspoon dried parsley
Instructions
Preheat the oven to 350 °.
Grease a large baking dish.
In a large mixing bowl, combine the sour cream and salsa verde.
Add the tortillas, cheese, and chiles.
Spoon the mixture into the prepared dish.
Sprinkle the paprika and parsley over the top. Dish can be covered well and frozen at this point. Thaw completely in the refrigerator before proceeding with the recipe.
Bake in the preheated oven for 30 to 45 minutes or until hot and bubbly.
Serve hot.
Preparation time: 20 minute(s)
Cooking time: 45 minute(s)
Number of servings (yield): 8
What's on YOUR plate?
What's on Your Plate? is designed to be a conversation amongst good eaters.
Tell us about a recent meal. Did it meet with rave reviews? Or did it bomb? What side dishes did you pair with the star of the show? Did you try a new ingredient? Find the groceries at great prices?
What's on YOUR Plate?
Share with us a recent meal you prepared. Either link it up below or tell us about it in the comments. Please make sure that you link to www.goodcheapeats.com in your post so others know where the dinner party is.
And don't forget to visit the other good eaters participating today. I'm sure you will be inspired to make all sorts of Good Cheap Eats at your house.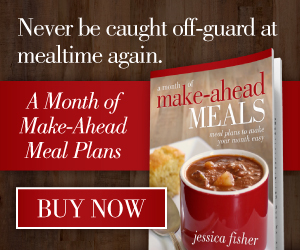 Make-ahead meals can make your month! Grab this month's meal plans to take it easy and enjoy great home-cooked meals.