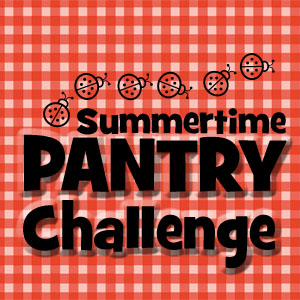 It has been a fun week in the kitchen. I will say that. My family really doesn't know that I'm not doing major grocery shopping. I'm still shopping one day a week, but I'm trying to limit it mentally to under $100 a week and so far, so good. You can see what I bought this week in my Grocery Geek post for the week.
We've eaten well every night this week AND we've even stuck to my meal plan, something that is amazing! I've felt creative all week long and have made some new creations that I will be sharing in the coming weeks. Here are some of our highlights thus far: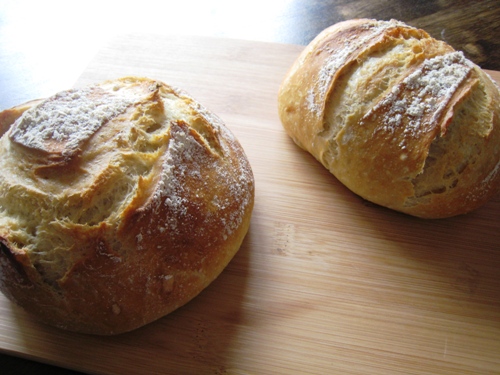 Back to Bread
I've returned to Artisan Bread in 5 Minutes a Day. After a disastrous attempt at bread baking awhile back, I figured it was a sure thing. I made a double batch of dough (about 8 loaves) and have been serving bread every other day or so with our meals. I tweaked it a little and use part whole wheat flour because I have more of that than unbleached, and it seems to be working okay. At least, there are no leftovers, if that is any indication.
Baking Oatmeal?
Thanks to heavy discussion with my friend Lynn about Baked Oatmeal, I took the plunge. I was worried that it would be mushy. And I don't like mushy oatmeal. I ended up tweaking her recipe into Raspberry Baked Oatmeal. I served it with unsweetened whipped cream and it. was. so. good. Recipe coming soon.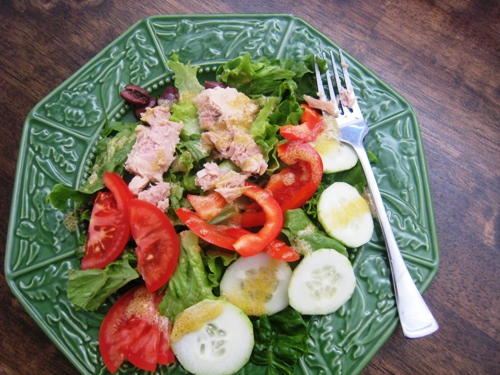 Watching My Weight
Since my wardrobe and I aren't getting along, I'm watching what I eat, even during this pantry challenge. As a result, I've been eating more salads. And they've been really good, like this Salade Nicoise.
Reinventing Leftovers
I've also done a fair job of reinventing leftovers. The rest of a Chicken Dinner became Chicken Noodle Soup the next day. Small batches of leftover meat, beans and rice that I'd been stashing in the freezer became Beans and Rice Soup. Leftover sausage from a dinner one night added to scrambled eggs a few mornings later.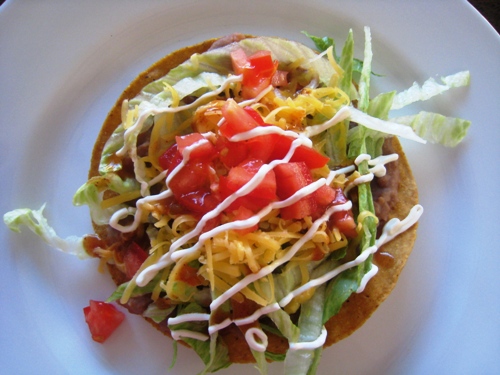 Hello, Old Friend
I also resurrected an old favorite from our "deep-in-debt" days: Bean and Cheese Tostadas. Five out of six kids did a happy dance over these babies, made with Homemade Pintos. The oddman said he's never liked them: 1. We ate them too often "back in the day." 2. They don't have meat, and he doesn't like many meals without meat. However, the other five did another happy dance when I said that we'd be eating them more often since they were so popular with the majority. Poor big brother.
Chick Food
I had a friend and her children to lunch one day. I made chick food. So fun! I pulled a Roasted Vegetable Quiche and a few soups from the freezer (all from the upcoming cookbook) and we feasted. I love girl food. Sigh.
Those are the culinary highlights of the week. We still haven't really made a dent in the freezer, so I'm wondering if this challenge will continue into August.
Come by LifeasMOM tomorrow to see the meal plan for next week. And you can head here to read what really goes down the hatch.
What are the girls up to?
A wonderful group of ladies is accompanying me on this journey. We don't all have the same goals for the challenge, so it will be extra fun to take a peak into their kitchens and see how they're making things work at their houses. Be sure to bop around and see what's cooking over here:
How are YOU doing?
If you're doing the Pantry Challenge, tell us how it's going. If you're struggling, let us know. Maybe we can help you trouble-shoot. That's what friends are for.