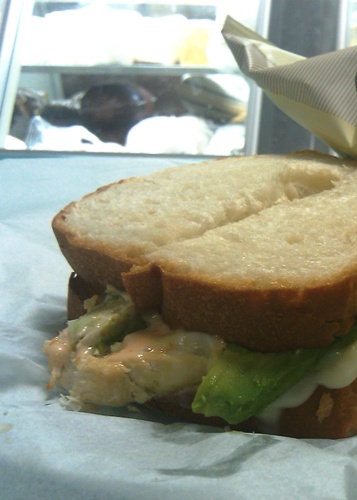 Thanks to those who participated in last week's sandwich contest. There were some very delicious entries. The sandwich that got the most votes was The Oklahoma Kid, submitted by Heather Ratliff.
Here's a little bit of the back story of Heather's sandwich:
About a year ago, my husband and I purchased Bogie's Deli in Abilene, TX. The business was almost 20 years old and my dad had been a patron there for most of that time. We were in the restaurant about a year earlier when the owner mentioned he might be selling. It sounded very interesting, but we needed to wait until the school year was over since my husband was a school principal at the time. We started talking with the owner in March 2010 and by June, we had bought it. Taking over in August 2010, we knew we didn't want to change anything. We have kept the same menu (and added a couple items since then), the same decor, and the same employees (as much as possible).

All the menu items are named after Humphrey Bogart movies. Our best-selling specialty sandwich is The Oklahoma Kid. Consisting of warm chicken breast, sliced avocado, melted Monterey Jack cheese and Thousand Island dressing on toasted homemade sourdough bread, it is deliciousness in your mouth! We've had people come from many miles away just to get their Oklahoma Kid.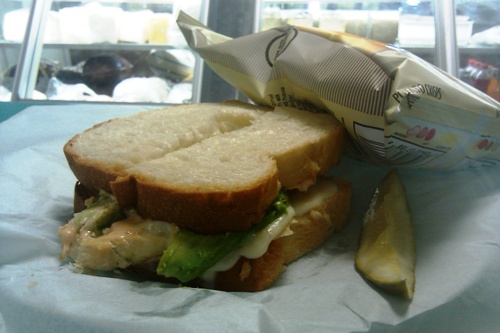 The Oklahoma Kid
2 slices homemade sourdough bread
3 ounces cooked chicken breast, sliced
1 ounce Monterey Jack cheese
1/2 avocado, sliced
1 ounce Thousand Island dressing
Arrange the chicken and cheese on one slice of bread. Toast it to melt the cheese. Top with the avocado, dressing and second slice of bread. Enjoy!
Don't forget to "Take a Sandwich Road Trip with Kraft Foods!" – on July 18th at Outstandwich.com. Kraft Foods is launching a virtual road trip around the country, in search of the best regional sandwiches.