Sooner or later, most people realize that if they have a meal plan for the day or even the week, that mealtimes will come together much more quickly and economically. I've been doing it so long, I forget that there were days when I didn't  plan out our meals.
When I was a teenager living in my parents' house, I often made lists of meals to make for the family and went grocery shopping. However, my mom will be quick to point out that I blew all the grocery money on dinners and forgot about breakfasts, lunches, and incidentals.
As a college student in my first apartment, I operated a little more "spontaneously," doing my meal planning while I shopped. I bought what sounded good to me at the time and then made mental notes of what I could eat during the week. And I remember many a meal that I paid a pretty penny for, either at the burrito stand on the way home or the corner store that sold groceries at high prices to ignorant college students.
It wasn't until, as a newlywed without a job, that I spent a summer organizing our home and read all about meal planning in the home management books I found at the library. I distinctly remember sitting down at our kitchen table and plotting out the meals, based on what are schedule was like that week.
Over the years, my grocery cart has gotten fuller, as has my minivan, but  meal planning is a must-do for me. Sure, I can fly by the seat of my pants, and just make up a meal idea about ten minutes before someone starts clamoring for dinner.
But, I feel so much more prepared if I scratch out a plan for the week — in advance. I can go shopping — alone — on Sunday afternoon while my husband's home to supervise on the kids. And I know that we're supplied for the week's breakfasts, lunches, and dinners.
I won't have to run out to the store unless I want to.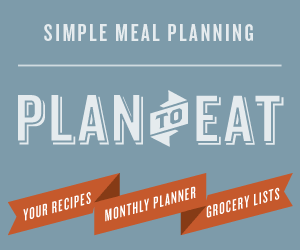 If you're new to meal planning or even eating at home, the prospect of tackling this area of meal management can seem daunting. However, you don't have to go it alone. Plan to Eat is a meal planning service that does a lot of the work for you. Not only does Plan to Eat provide a huge selection of recipes to choose from, but it let's you plan the week or month's worth of meals — and generates a grocery list for you!
Now that's a pretty sweet deal.
You can store your recipes on Plan to Eat, with the option to keep them private or to share them with friends, as well as import them from your favorite recipe sites on the web. The drag and drop feature allows you to simply and easily plot our your week's worth of good eating.

Plan to Eat also automatically generates a shopping list for you based on the foods you "plan to eat." But, unlike other shopping lists, you can edit it to remove items you already have, add extra things that you may want, and make notes about special products or sales. You can even divide the list according to the stores you want to shop at. An added bonus is that you can share the grocery list with others, especially others in the household who you might want to delegate the week's grocery shopping.
Plan to Eat has gone one step further by making all of this available on their mobile site, allowing you to have everything you need for cooking, meal planning, and shopping — right at your fingertips.
I can see this as particularly helpful if you are going on vacation, but plan to do some cooking while you're gone. Meals on wheels — sorta.

Plan to Eat costs $4.95 a month or $39 a year. But, you don't have to fork down cash, site unseen. You can give the service a trial run for 30 days for FREE.
While it's definitely possible to tackle all those tasks yourself, having a little help never hurt.
What is your biggest meal planning challenge?
Disclosure: Plan to Eat is a sponsor of Good Cheap Eats. All opinions are my own.