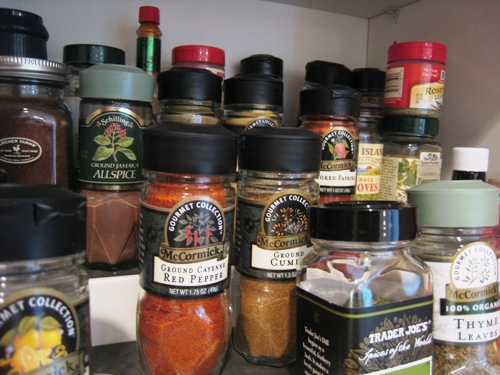 This week I'm putting the final touches on the cookbook I've been working on for the last six or seven months. It's been a wonderful experience and I am blessed to have great friends and family to test my concoctions and a great editor to give me encouraging feedback.
It's brought out the latent student in me…. I'm going for the A.
The first half of this year has been filled with recipe testing, writing, recipe testing, editing, emails, recipe testing, and some more writing. My kitchen and office look like they've had a good workout.
In fact, my kitchen has undergone a transformation in a sense. Here's how:
My spice cupboard is filled to the brim.
Normally, I work with about 10 to 20 spices on a regular rotation. But, I added to this collection this year in order to expand the flavor profile of the recipes in the book. It has been a delicious adventure!
I also replaced most of my spices. I had some that had made at least one, if not two, cross-country moves. Um, yeah, I'm a little lazy about the "replace your spices every six months" rule.
I knew I needed to use the freshest spices possible so that cookbook readers could most accurately reproduce the recipes. We've had a good time, but a little organization is in order now.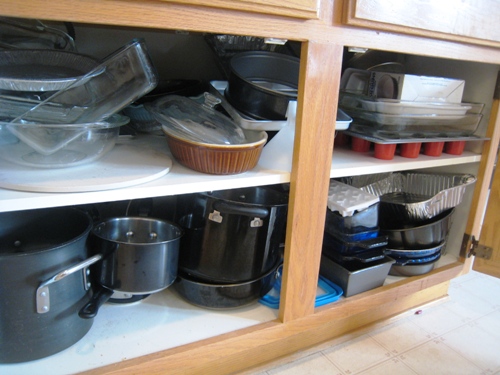 My pan and plastic cupboards look like a tornado hit them.
Since my mission was to cook to fill the freezer, I invested in more baking pans and storage containers with lids, disposable as well as glass, so that I would always have a dish to use and be able to stash it in the freezer. However, we seem to have outgrown our storage. (And my older children who put away dishes seem to need a lesson in where things go.) So, it's time to pare down and organize.
My freezers overfloweth.
Since The Cookbook is designed around "make ahead and freeze" meals in bulk quantities, I have been able to fill my freezer. And fill my freezer. And fill my freezer. Plus, there are still quite a few bags of cranberries and turkeys in there from the holidays! I'm wondering how long we could eat from this storehouse of  yum.
My pantry is a hodge-podge.
The kitchen closet we call a pantry has seen a lot of traffic in the last few months. I have cooked in huge quantities and brought in huge quantities of groceries. Currently there are still unpacked grocery bags on the floor because I was too busy to unload them. My 9 year old son keeps saying, "Somebody really needs to take care of the mess in there."
Yes, little grasshopper, somebody does.
I'm not really sure what we have in the pantry — other than the two flats of canned organic pumpkin that I bought after Christmas for 50 cents a can. Time to find out.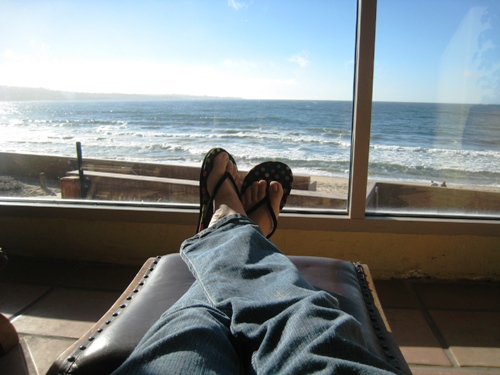 Moving from Cookbook Mode to Summertime Mode
I don't know about you. But summertime for me means more relaxed days dotted with days of decluttering and organizing. Since summer for our family operates on a lower gear, I can take the time to reevaluate our home and lifestyle and think about new practices to put into place and new ways to organize our home.
And now that The Cookbook is off my hands, or will be in a day or two, it's time to relax — and then reorder.
One place in our home that needs some help is, obviously, our kitchen. So for the next month I'm going to be decluttering and reorganizing. And we're going to do a little "eat from the pantry" challenge.
A Summertime Pantry Challenge
This Summertime Pantry Challenge is going to be a little different than the one I do in January every year. I don't want to feel pressured. I don't want to feel guilty for spending grocery money. I want to relax!
So, I'm not going to set a money limit. And I'm going to stock-up on those seasonal things that go on sale only in summertime. (See Carrie's list.) But, I think we'll save money anyway by focusing on what we have first.
My goals for the challenge:
To build my menus from what we have in the freezers and pantry.
To supplement with sale items and in-season produce. (Kinda hoping that my gardener friends will want to unload their excess on me.)
To reorganize my dishes and kitchen stuff – looking through my gadgets and tools might remind me of foods I could make that we haven't made in awhile or inspire me to use up ingredients that we have.
To streamline our kitchen a little, making it easier to operate in and easier for people to put things away. (Ahem.)
To maybe lose some of the spare tire I'm sporting around my waist. (Fresh produce, beans, and rice always seem to help.)
I'll be posting daily updates on how we're doing right here. And this month's posts will be all about how you can make the most of what you have.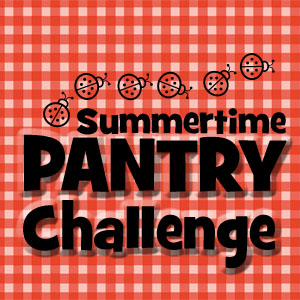 Want to come along?
I'm not doing this gig alone. I'm collaborating with a great group of bloggers to give you glimpses of what "eating from the pantry" can look like in other homes. These girls know how to eat good — and cheap — so I know I'll be able to learn a lot from them. And so will you!
Join me and the girls for a Summertime Pantry Challenge!
On Friday, I'll be sharing a link-up for those of you who want to join in. Just write a post on how you're going to challenge yourself to make the most of what you have, being sure to link back to Good Cheap Eats. Share your link on Friday and then pop around to the participating blogs and see how you can be inspired to "eat from the pantry."