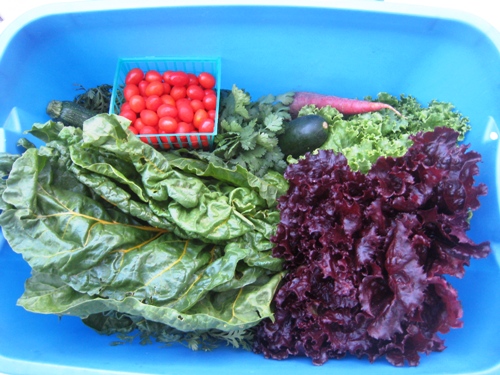 This is a one of the CSA boxes I got last Fall. Each week we received a box loaded full of fruits and vegetables. Some I had no idea what to do with! But, as my creativity got going, we discovered some new foods that have become favorites. And I developed some family favorite recipes like this bolognese and this stew.
That's how food adventures often go. Making the most of what you have leads to creativity and deliciousness.
And that's what I intend to do this month. Be creative, eat deliciousness, and make the most of what we have — in a summertime pantry challenge.
A Summertime Pantry Challenge
As I mentioned earlier this week, this Summertime Pantry Challenge is going to be a little different than the one I do in January every year. I don't want to feel pressured. I don't want to feel guilty for spending grocery money. I want to relax!
So, I'm not going to set a money limit. And I'm going to stock-up on those seasonal things that go on sale only in summertime. (See Carrie's list for more ideas of what I'm talking about.) But, I think we'll save money anyway by focusing on what we have first.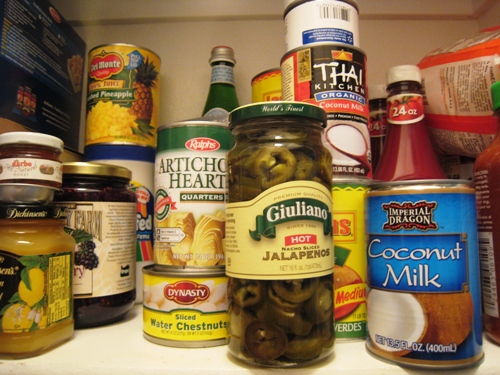 My goals for the challenge:
To build my menus from what we have in the freezers and pantry.
To supplement with sale items and in-season produce. (Kinda hoping that my gardener friends will want to unload their excess on me.)
To reorganize my dishes and kitchen stuff – looking through my gadgets and tools might remind me of foods I could make that we haven't made in awhile or inspire me to use up ingredients that we have.
To streamline our kitchen a little, making it easier to operate in and easier for people to put things away. (Ahem.)
To maybe lose some of the spare tire I'm sporting around my waist. (Fresh produce, beans, and rice always seem to help.)
I'll be posting daily updates on how we're doing right here. And this month's posts will be all about how you can make the most of what you have, featuring ideas of what to do with pantry staples and how to add flavor to foods when you don't think there's anything to eat.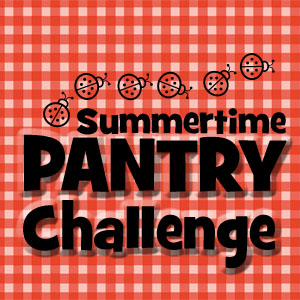 Want to come along?
I'm not doing this gig alone. I'm collaborating with a great group of bloggers to give you glimpses of what "eating from the pantry" can look like in other homes. These girls know how to eat good — and cheap — so I know I'll be able to learn a lot from them. And so will you!
Join me and the girls for a Summertime Pantry Challenge!
We don't all have the same goals for the challenge, so it will be extra fun to take a peak into their kitchens and see how they're making things work at their houses.
Would you like to join us?
Just write a post on how you're going to challenge yourself to make the most of what you have, being sure to link back to Good Cheap Eats. Share your link below and then pop around to the participating blogs and see how you can be inspired to "eat from the pantry."