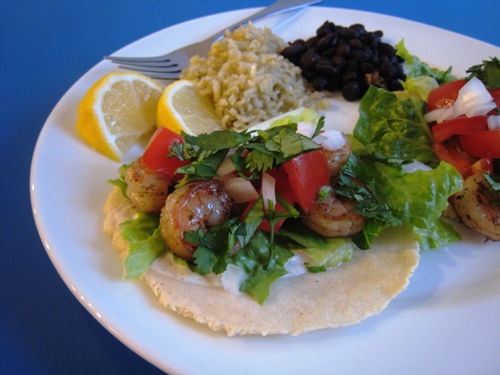 Slowly, I'm growing into a seafood fan. It may be that we're now back on the West Coast. It may be that I'm succumbing to my husband's preference for fish. But, either way, fish and other seafood are making an almost weekly appearance on our table. One of my favorites?
Yum! One of the best parts is that Hubs does most of the work. Yes, yes, he does.
He makes the tortillas.
He grills the shrimp after I toss them with the spice rub.
I make the yogurt dressing and chop some veggies. Oh yeah, I might also make some sides like rice and beans. But, all in all, shrimp tacos are easy and delicious and a welcome addition to our plates.
Welcome to What's On Your Plate?!
What's on Your Plate? is designed to be a conversation amongst good eaters.
Tell us about a recent meal. Did it meet with rave reviews? Or did it bomb? What side dishes did you pair with the star of the show? Did you try a new ingredient? Find the groceries at great prices?
What's on YOUR Plate?
Share with us a recent meal you prepared. Either link it up below or tell us about it in the comments. Please make sure that you link to www.goodcheapeats.com in your post so others know where the dinner party is.
And don't forget to visit the other good eaters participating today. I'm sure you will be inspired to make all sorts of Good Cheap Eats at your house.