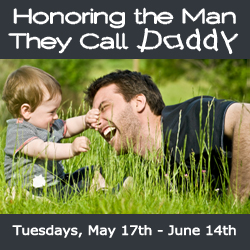 Earlier this week I shared some strategies that I use to make meals more appealing to the men in my life. Meanwhile, my friends, Mandi, JessieLeigh, Amy, and Tara, shared some of their own tips for making great meals for their sweet hubbies.
Mandi shared several recipes, including Chicken Quesadillas, Crab Dip, Chicken Parmesan Bake, and Chocolate Mousse Pie. Yum! Go check out her selection of great meal ideas.
JessieLeigh also offers a huge selection of man-sized meals, including a recipe for homemade breakfast sandwich, The Hamlet.
Amy has even me salivating over her bacon-wrapped jalapeno poppers. Love those! She also shares how she tailors meals to what she knows her husband likes.
Tara shares a recipe for Jambalaya. Jambalaya is one of my husband's very favorites. Yum!
What do YOU do to make meals more appealing for The Guys?
And I would love to hear from The Guys…. what do YOU like to eat? Have we boxed you in? I hope not.