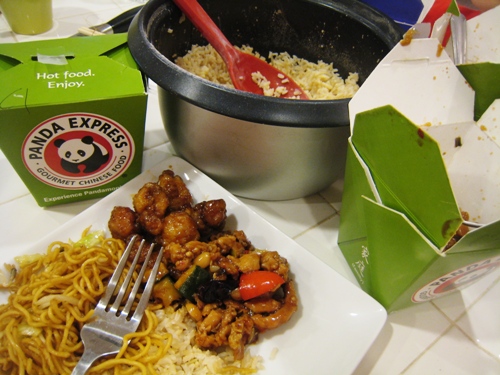 There's a distinct irony in the fact that I'm currently in the throes of writing a cookbook, preparing mountains of food, and feeding my family more take-out than usual.
I chalk it up to the need for focus. On days when I'm testing and retesting recipes, we eat like kings. On days when I'm writing, we lean more on quick fixes and fast food.
This week, I decided to be a little more proactive in my planning — and did a quick inventory of the freezer. We've got lots of new creations chilling out in there. So, they are dictating our meal plan this week.
Some strategies I plan to use to keep me out of the drive-thru:
Cleaning out the fridge so that there's room for freezer meals to thaw.
Pre-prepping salads and vegetable trays so that side dishes are easy at the ready.
Making a mess of baking mixes to make breakfasts and breads a little easier.
Taking a cue from Tammy, and preparing for stressful days with a few back-up plans.
Here's my meal plan for the week:
Breakfasts
Pancakes
Eggs and Toast
Yogurt, Fruit, and Muffins
Waffles
Granola or Oatmeal
Scones
Lunches
sandwiches
snacky lunch
pasta salad
Dinners
Pasta with Vegetable Bolognese, Salad, Garlic Bread
Roast Chicken, Mashed Potatoes, Vegetables
Shepherd's Pie, Green Salad
Pork and Hominy Stew, Rice, Salad with Pepitas and Cilantro-Lime Dressing
Sausage Ragu and Noodles, Steamed Veg
Pizza Night
takeout — because who are we kidding?
How do you avoid the drive-thru?
Need more ideas for meal planning? Check out Menu Plan Monday.