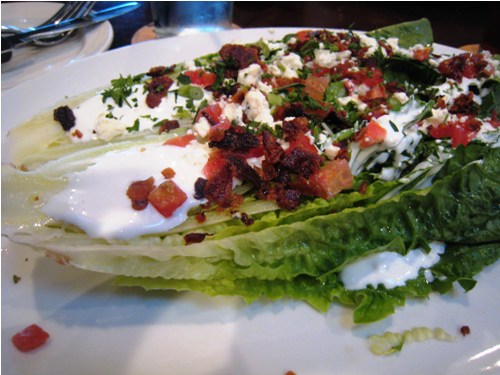 As I've mentioned before, hubs and I are on a hunt for good, local restaurants in San Diego. We don't expect the world on a platter, but we're looking for quality and we're looking for local. We've tried a number of bigger chain restaurants over the last few months and have walked away poor and disappointed.
Well, not poor, really, but with significantly less money in our wallets and a dissatisfied feeling in our bellies.
So, on our weekly date nights we've opted for cheaper choices that are guaranteed to be tasty, like fish tacos from Rubio's or a burrito from Chipotle.
Last night we got brave. Inspired by an episode of Sam the Cooking Guy where he interviewed chefs and owners of San Diego micro-breweries, I wondered if perhaps one of these restaurants might offer a better dinner than the abysmal Claim Jumper we visited a few weeks ago.
So, we headed for the Karl Strauss Brewery and Restaurant near Legoland. Since this restaurant services the nearby resort, I was hopeful that the service and atmosphere would be good. A quick glance at the menu before we left home promised that it might be tasty and affordable, too.
And it was!
It wasn't "out of this world" good, but it was a definite improvement over some of the meals we've had out. I would say it was definitely good.
Hubs ordered the Cajun pasta while I opted for The Wedge, a romaine heart, split lengthwise, topped with blue cheese, gorgonzola, green onions, tomatoes, and bacon. Yum-O! I ordered the salad as a meal to shave the final bill a bit, but if you are ravenous, you may want to add chicken or shrimp. There was no bread basket, otherwise that would have fit the bill.
Our two meals totaled a little over twenty dollars. While not as cheap as Taco Tuesday at Rubio's, it was a delicious grown-up meal, and still pretty economical when you consider it was an adult meal at a full-service restaurant in a resort location. Beer connoisseurs will be pleased with the large selection of beer offerings, as well.
The service was excellent and the atmosphere very grown-up and relaxing. I don't know that I would take my kids, just because it's nice to have something different for date night, but they do have a children's menu and there were children seated nearby while we ate. There are Karl Strauss locations in downtown San Diego, La Jolla, Sorrento Mesa, Carlsbad, Costa Mesa, and at the Universal Citywalk.
We found a great date night option, enjoyed a nice meal, and I'm now inspired to try making a romaine wedge salad at home.
I deciphered the salad. Here's what you need, easy peasy:
Recipe: Wedge Salad with Romaine Lettuce
Summary: an easy and delicious twist on the classic wedge salad
Ingredients
1 romaine lettuce heart, rinsed
blue cheese dressing
Gorgonzola cheese crumbles
chopped tomato
crisp, cooked bacon, crumbled
diced green onions
Instructions
Slice the romaine heart in half lengthwise.
Place both halves of lettuce on a large platter.
Drizzle the blue cheese dressing over the lettuce halves.
Sprinkle with Gorgonzola cheese, tomato, bacon, and green onions.
Serve immediately.
Preparation time: 10 minute(s)
Welcome to What's On Your Plate?!
What's on Your Plate? is designed to be a conversation amongst good eaters.
Tell us about a recent meal. Did it meet with rave reviews? Or did it bomb? What side dishes did you pair with the star of the show? Did you try a new ingredient? Find the groceries at great prices?
What's on YOUR Plate?
Share with us a recent meal you prepared. Either link it up below or tell us about it in the comments. Please make sure that you link to www.goodcheapeats.com in your post so others know where the dinner party is.
And don't forget to visit the other good eaters participating today. I'm sure you will be inspired to make all sorts of Good Cheap Eats at your house.
photo credit, 2nd photo: Karl Strauss