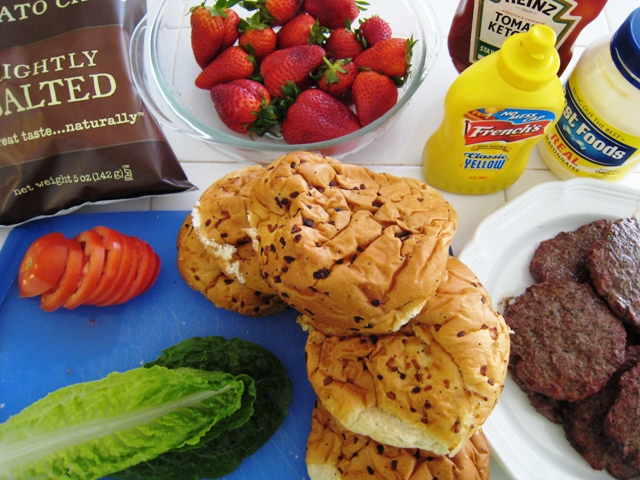 This past week has been filled with some meal planning fails, like forgetting to thaw the turkey in time for Easter. And some meal planning triumphs, like the rocking dinner we had on Friday night with an Artichoke-Sundried Tomato Pizza. Yes, ma'am, that was good.
Some times the plan works, and sometimes I fail to work the plan.
As I type, the weather is cold and drizzly here in "Sunny" San Diego. I kinda thought we were done with that, but no. And while I'd like to fill the week with bright, sunshiny suppers, that may or may not happen. We bought a new picnic table and I was hoping to inaugurate it tonight, but that may wait for another night.
Meal Planning for Crazy Weather
Those of you who live in other locales know what I'm talking about. Springtime weather is unpredictable. It can be cool and chilly one day and hot and sweaty the next. How does one meal plan when the weather shifts?
Plan for a variety of preparations: stovetop, grill, oven, crockpot
Give yourself options for side dishes, such as cool salads or steamed vegetables
Choose quick to fix meals or even freezer meals – Extra free time is always in style.
Have a back up plan for the nights when the BBQ is drenched.
As for me, I'm planning meals that could go either way, depending on the vagaries of Spring weather patterns. All to be served with a green salad , crudites, or steamed veg.
Grilled or Broiled Chicken, Twice Baked Potatoes
Pasta with Red Sauce
Hamburgers on Homemade Buns
Italian Sausage and Chimichurri Rice from Trader Joe's
Lemon Chicken, Rice Pilaf
How do YOU plan for unpredictable weather?
Need more ideas for meal planning? Check out Menu Plan Monday