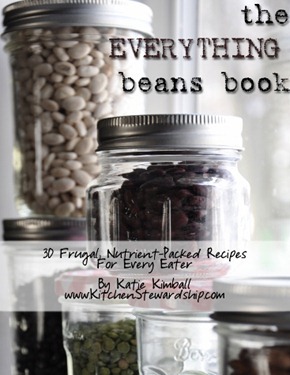 Beans and rice, rice and beans — one of the means that our family used to get out of debt. Talk about your super-frugal foods! We were able to live within our means, save money, eat well, and lose some weight during the year or two when beans and rice were served up two to three times a week.
My friend Katie from Kitchen Stewardship has put together an ebook, dedicated to the frugal food, in her latest The Everything Beans Book. Katie has done a fantastic job putting together an all-purpose book about beans. She includes a huge variety of recipes from making a broths from scratch to wraps to main dish meals — and even a recipe for brownies!
Katie has the heart of a researcher. She is a wealth of information when it comes to nutrition and quite honestly, she's my go-to girl when I want to know the nitty gritty details about food science. So, know that you're going to learn a lot from this book — not just how to cook a bean!
For $9.95 here's what you get:
95 pages and 30 recipes to lower your food budget and raise your nutrition at the same time. Twenty pages of…well…everything you might want to know about beans, including how to get comfortable with dry beans so you can save even more money (but not spend forever in the kitchen).
Click here to view more details
What role do beans play in YOUR kitchen?
Disclosure: I received a review copy of the book and am a Kitchen Stewardship affiliate.