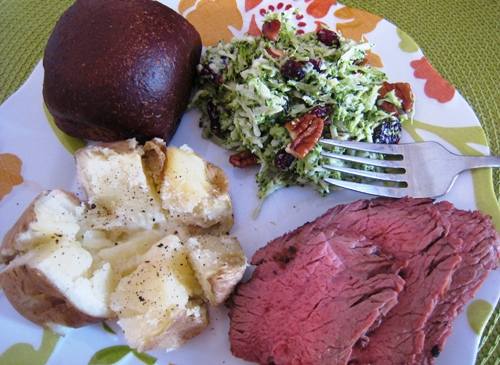 Normally, I post my meal plan each week over at LifeasMOM. But, seeing as it's Christmas over there, I thought I'd post it here.
This week seems to be another catch up week at our house. First it was cleaning up after a mouse that invaded. We've only caught one and found no new "evidence" so it's my hope and prayer that that was it.
It was a wonderful lesson for our marriage. My husband did not know how totally creeped out I get over rodents. I'm sorry to even mention it on a food blog. Eww.
Then we got hit by a flu bug midweek and of course, hypochondriac that I am, I worried that we were going to die of hantavirus. Forget the fact that our mouse wasn't that kind of mouse or that we are more likely to win the lottery or get struck by lightening than to contract that disease. I think I was sicker from worry than I was from the flu.
Suffice it to say, I'm ready for an easier week, less take-out, and a return to normalcy, whatever this is.
Here's my meal plan for the week, subject to change, of course:

25. Tacos
26. Beans and Rice
27. Chicken Caesar Salad, Garlic Bread
28. Grilled Tri-Tip, Potato Salad, Fruit Salad
29. Pasta with Meat Sauce, Green Salad, Biscuits
30. Chili and Cornbread, Veggies and Dip
31. Pizza Night
What are YOU having?
PPS. Don't forget to vote for me and my herd so we can win Chick-Fil-A for a year! We're the ones from COW-lifornia.