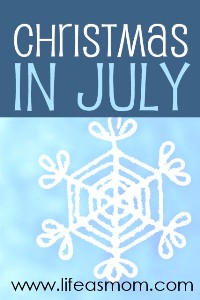 Tomorrow the Third Annual Christmas in July series will begin at LifeasMOM.
It seems crazy, I know, to be talking about Christmas in the heat of summer. However, there are some really good reasons why you might want to start thinking about the Holiday Season.
1. Summertime is a little more laid back.
2. Some holiday projects take some time to put together.
3. That January credit card bill CAN be avoided.
4. End-of-summer sales are great, as are back-to-school specials.
5. Planning promotes peace!
Pop over to Life as Mom tomorrow and check out the doings. And they'll be some good cheap eating to be had as well.