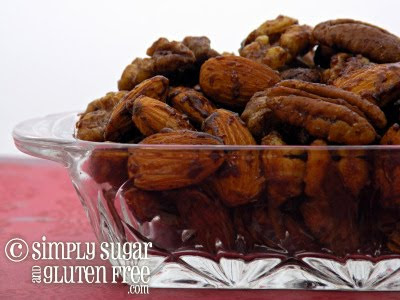 A Guest Post from Amy of Simply Sugar and Gluten Free – 
I was glad to see that Jessica included nuts in her Frugal Pantry series. Yes, they can be expensive but using them creatively can stretch your dollar. Nuts are a staple in my daily diet. I keep whole and sliced almonds, pecans, cashews, and walnuts stocked in my freezer. Toasted almonds and walnuts add flavor and nutrients to cereal, salads, and even applesauce. They travel well, so I use them for energy packed snacks on long days or road trips.
While we're talking about nuts, let's not forget seeds, which are still nutritious but usually a little less pricey. Sunflower seeds and pepitas, or toasted and salted pumpkin seeds are always in my pantry, too.
Try one of these tips to enjoy nuts more:
Being nutrient and calorie dense, a couple of ounces at time is enough. Prepackage servings in Ziploc bags so they're ready when you are and you don't end up eating mindlessly.
Make your own trail mix with raisins, seeds, and your favorite nuts. Sometimes I throw in carob chips, banana chips, and dates.
Buy in bulk and store them in the freezer. Nuts can go rancid quickly because of their high fat content. Costco carries bulk nuts for $3 – $4 a pound, depending on the type.
Toast nuts before you bake with them. This will enhance the flavor which means you can use less. I often cut the amount called for in the recipe by 25 – 50%.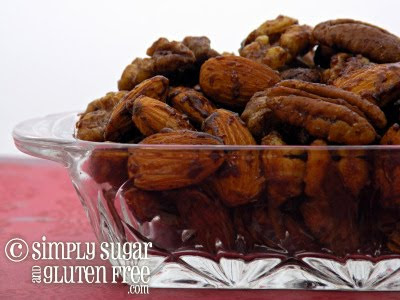 Cinnamon Roasted Almonds, Pecans, or Walnuts
makes 2 cups
This recipe is one of our favorites. We make cinnamon roasted nuts quite often as a snack or when we have a get-together. Last Christmas, everyone at my husband's office got a jar of roasted mixed nuts. His co-workers sent the empty jars home with him and asked for refills.
Ingredients
2 cups of almonds, pecans, or walnuts – roast each type of nut individually
2 tablespoons agave or honey
1 tablespoon grapeseed oil or canola oil
1 1/2 teaspoons good quality cinnamon
1/2 teaspoon kosher salt
1/4 teaspoon cayenne powder
Instructions
Place a rack in the middle of your oven. Preheat your oven to 350 degrees F.
Place nuts in a large bowl. When you roast the nuts, roast each variety in separate glass or ceramic baking dishes as their roasting times vary slightly. You can put two dishes of nuts in the oven at once so long as they fit on the same middle rack. If the nuts are too close to the heating element they'll burn.
Combine agave, oil, cinnamon, salt, and cayenne powder in a glass measuring cup. Pour mixture over nuts and toss to coat completely. Place nuts in a glass baking dish in a single layer. Bake for 12 – 15 minutes, stirring after 6 minutes. Test for doneness at 12 minutes. Nuts will still be soft when done and will get crisp as they cool.
Let nuts cool in glass dish for a few minutes. Stir to toss nuts in any remaining agave mix on the bottom of the pan. Place on heavy duty aluminum foil to cool completely, separating nuts as much as possible so they don't dry in clumps.
For almonds: these take several more minutes to cook. Once cooked, allow to cool in pan, tossing in agave mix. Since the almonds have no ridges to soak up the flavoring, you may need to add a little salt, cinnamon, or cayenne. Taste the nuts and adjust the seasoning as needed. Once they've cooled and have nice globs of spicy cinnamon agave on them, move them to heavy duty aluminum foil to cool completely.
Store in mason jars for optimal freshness.
Variation: Use 1 1/2 teaspoons curry powder in place of the cinnamon and cayenne.
What are your best frugal tips for buying and using nuts and seeds?
— Amy Green, M.Ed., authors
Simply Sugar and Gluten-Free
, a blog dedicated to fabulous food made a little healthier. She struggled her weight for her entire life until eliminating refined sugars and gluten from her diet. She's been able to maintain a 60+ pound weight loss since 2004.Much of what she cooks is naturally sugar-free and gluten-free so her blog contains many recipes using ingredients you already have in your kitchen.
Want the dish on delicious ways to act your wage? Subscribe to GCE in a reader or via email.