Earlier this week, we talked about how butter generally gives better results in baking. While lard, oil, and other fats certainly have their place, butter is better — at least my taste buds think so.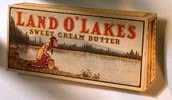 One of my favorite brands of butter is Land O' Lakes. Maybe it's because my ancestors planted roots in Minnesota, Land of 10,000 Lakes. I dunno. But, I know it has been my dad's favorite butter, and his mom's before him. Long time readers of LifeasMOM will remember when the FishKids and I held a Cookie throwdown between Land O'Lakes' cookie recipe and my Gramma John's Blue Ribbon Recipe.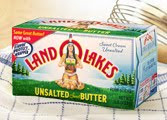 Even though we thought ours was a better cookie, Land O' Lakes isn't holding it against me. In today's giveaway five winners will each receive a coupon for a free pound of butter.
Leave a comment telling us your favorite way to use butter.
Giveaway will be open until Sunday, May 16th 8 pm PST. Winners will be chosen at random and notified by email. Those who don't respond within 48 hours of their notification email will forfeit their prize.
Want the dish on delicious ways to act your wage? Subscribe to GCE in a reader or via email.