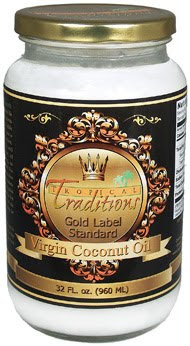 Awhile ago I started hearing about coconut oil as a cooking oil coming in vogue. Honestly, I instantly thought of Mounds Bars and what I'd heard about coconut oil being bad for you. It made as much sense as calling a deep-friend twinkie health food. But, it kept coming up in conversations. Finally I talked with my "health nut" friends and did a little research.
What I found out led me to classify virgin coconut oil in the same family as butter as a natural and safe, albeit controversial fat to use in cooking.
(This is my opinion, based on the reading I've done. I don't propose it as fact, just the conclusion that I've come to, personally. In no way am I vouching for any personal health claims.)
Tropical Traditions sent me a bottle of their virgin coconut oil to sample. We were really impressed with the flavor and ease of use. I used it in both my Breakfast Cookies and in my Chocolate Chip Banana Bread.
We loved the taste in both recipes. Definite a two thumbs' up!
A few snafus:
Because coconut oil is a solid at room temperature and colder, it did not work well for me to freeze my cookie dough in one big lump. It's a dense dough to begin with due to all the oats and seeds. In order for the dough to soften enough to portion, it had to warm substantially which kind of messed with it. Next time I would either bake and then freeze the cookies or portion and flash freeze cookie-sized dough balls.
Likewise I would melt the oil before adding it to the banana bread. Several little lumps of oil didn't mix in completely. They melted during baking and tasted fine, but they left little holes in the bread in some places. Not pretty eats.
Today, Tropical Traditions is giving one reader a free jar of coconut oil.
Here's how to enter:
Simply leave a comment on this post, telling us your favorite use of coconut products (oil, cream or milk) or if you've never used it.
For an extra entry, subscribe to the Tropical Traditions Newsletter and leave a second comment, telling me you did so.
Giveaway will be open until Sunday, May 16th 8 pm PST. Winners will be chosen at random and notified by email. Those who don't respond within 48 hours of their notification email will forfeit their prize.
Disclosure: Tropical Traditions provided me with a sample jar of coconut oil to review. I was not compensated in any way for reviewing this product or offering this giveaway, nor was I required to do so. My opinions are my own. For more information, please see my disclosure policy.
Want the dish on delicious ways to act your wage? Subscribe to GCE in a reader or via email.