Katie is a food adventurist. I love that. Here she experiments with quinoa in stuffed peppers. How beautiful is that?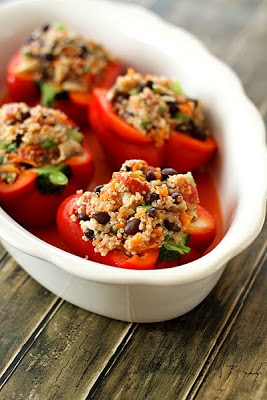 I highly recommend trying quinoa if you haven't already. It is one of the most nutritious grains available and very tasty, which makes it an excellent choice for a pantry staple. Quinoa (pronounced keen-wa) has a similar texture to couscous, but a little more crunch and a slightly nutty flavor. The Incas called this ancient food staple "The Mother Grain." Quinoa contains more protein than any other grain and is classified as a "complete protein" and contains slow-releasing carbs to help maintain blood sugar levels. It is also a very good source calcium, iron, phosphorous, B vitamins, and vitamin E. Quinoa is a great grain substitute for rice if you are aiming for healthier meals. For more about quinoa, see What is Quinoa? at Recipezaar.
I love this recipe for Quinoa Stuffed Bell Peppers. They are packed with all different colored vegetables, making them extra nutritious. The flavor is great and there are fairly simple to prepare. Keep an eye on your grocery ads for sales on red bell peppers to make the meal extra frugal. I purchase unsliced mushrooms because they are usually cheaper and then slice them myself. I like to serve the peppers with a side of fresh baked garlic bread.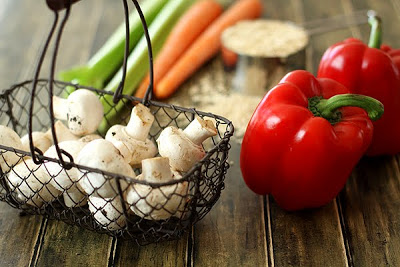 Quinoa Stuffed Bell Peppers
Adapted from Vegetarian Times
2 tablespoon olive oil
1 medium onion, finely chopped
2 ribs celery, finely chopped
1 8-oz. pkg. mushrooms, stems removed and saved for another use and caps sliced very thin
1/2 of a poblano pepper, diced
1 tablespoon ground cumin
2 cloves garlic, minced
1 – 15 oz. cans diced tomatoes, drained, liquid reserved
1 – 15 oz. can black beans, rinsed and drained
3/4 cup quinoa
1 1/2 cups grated carrot
1 1/2 cups grated reduced-fat pepper Jack cheese, divided
4 large red bell peppers, halved lengthwise, ribs removed
Heat oil in saucepan over medium heat. Add onion, celery, and poblano pepper and cook 5 minutes, or until soft. Add cumin and garlic, and sauté 1 minute. Stir in mushrooms and drained tomatoes. Cook 5 minutes, or until most of liquid has evaporated.
Stir in quinoa, carrots, and 1 3/4 cups water. Cover, and bring to a boil. Reduce heat to medium-low, and simmer 20 minutes, or until quinoa is tender. Combine quinoa and carrots with black beans, 1 cup of cheese, and the onion mixture from the first step, . Season with salt and pepper, if desired.
Preheat oven to 350°F. Pour liquid from tomatoes in bottom of baking dish.
Fill each bell pepper half with heaping 3/4-cup quinoa mixture, and place in baking dish. Cover with foil, and bake 40 minutes. Uncover, and sprinkle each pepper with 1 tablespoon of remaining cheese. Bake 15 minutes more, or until tops of stuffed peppers are browned. Let stand 5 minutes. Transfer stuffed peppers to serving plates, and drizzle each with pan juices before serving.
Related Links:Quinoa Taco Salad
—Katie Goodman believes that part of the goodness in life is sharing good food with friends and family. She's a SAHM determined to make family meal time a priority while providing a variety of healthy and delicious food choices. Katie blogs at Good Life Eats, where she shares what she finds good in the kitchen and in life. Katie also contributes to Paula Deen Online and Craftzine.
Want the dish on delicious ways to act your wage? Subscribe to GCE in a reader or via email.