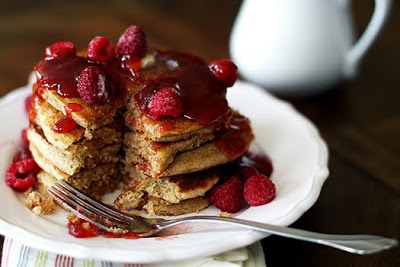 Katie is one of my favorite food bloggers. Her pictures make me smile every time. Doesn't that look good?! She has taught me so much about food photography — as well as design. It was she who designed Good (and Cheap) Eats. I'm blessed by her friendship. Today she shares a delicious and healthy pancake mix recipe. Mixing up a custom pancake mix is something that we regularly do at our house. It makes morning — or evening — pancakes so much easier to pull together. 
Who likes pancakes for weekend family breakfasts? Probably at least 80% who are reading this would say "Yes!" Who wants to make those pancake breakfasts quicker and healthier? Cooking with different flours is fun and a great way to enhance your diet. Most, if not all, of these flours can be found in the bulk section or baking aisle of a natural foods store. If you can't find them in your area, Bob's Red Mill is a great resource for specialty flours. You can also order many flours on Amazon.
My family loves this pancake mix recipe that I've adapted from the one my aunt makes for her family. I feel good about eating pancakes for breakfast (or dinner) because they're packed with all kinds of whole grains along with the benefits of flax. I love having my own homemade pancake mix. It takes a little bit of time to put together, but it saves a lot of time in the long run and I know it is much better for us than any store bought pancake mix.
If you want a little change in flavor you can add different fruit purees when you mix up the batter, or whole blueberries, and a touch of cinnamon if you'd like. For serving maple syrup is always great, but I also like to melt seedless raspberry jam and pour that over my pancakes. Then, top it with a few raspberries (fresh or frozen).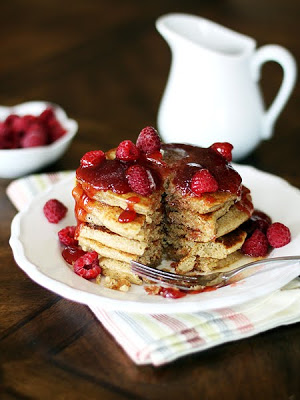 Recipe: 5 Grain Pancake Mix with Flax
Summary: Adapted from Sensible Cooking
Ingredients
9 cups whole wheat flour
2 1/2 cups barley flour
2 1/2 cups oat flour
2 1/2 cups brown rice flour
2 cups rye flour
2 1/2 cups cold milled flax
4 cups powdered milk
3 teaspoons salt
1 cup baking powder
Instructions
Combine all ingredients in a large bowl (or stand mixer fitted with the whisk beater if you have a Bosch or large Kitchen Aid). Stir very well, using a whisk, until the ingredients are evenly distributed.
Transfer to 2 gallon sized freezer zip-top bag. Be sure to label the bag with the pancake instructions, as seen below. Store in the freezer for freshness.
Recipe: 5 Grain Pancakes with Flax
Ingredients
1 cup + 1 tablespoon mix
1 egg, beaten
2 tablespoons butter, melted
1/4 cup sugar, honey, or agave
1/2 to 2/3 cup water
1 teaspoon vanilla
1/4 teaspoon cinnamon, optional
1/4 cup pureed pumpkin or mashed banana, optional
Instructions
Preheat a griddle over medium heat for 5 minutes.
Combine the beaten egg, butter, sugar, water, vanilla, and any optional ingredients. Mix well. With a wooden spoon, stir in the pancake batter until well mixed.
Grease pan with spray oil. Add 1/4 cup of batter to the preheated pan for each pancake. Don't overcrowd. Cook for 1 1/2 to 2 minutes before flipping. Large bubbles should be forming on the top of the uncooked side. Flip and cook for an additional 1-2 minutes. Serve immediately.
—
Katie Goodman believes that part of the goodness in life is sharing good food with friends and family. She's a SAHM determined to make family meal time a priority while providing a variety of healthy and delicious food choices. Katie blogs at Good Life Eats, where she shares what she finds good in the kitchen and in life. Katie also contributes to Paula Deen Online and Craftzine.
Want the dish on delicious ways to act your wage? Subscribe to GCE in a reader or via email.