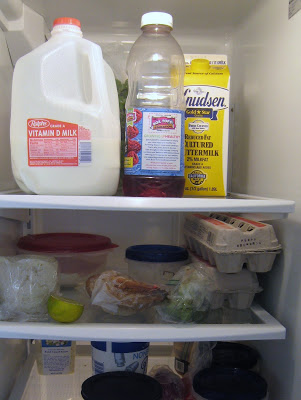 This giveaway has closed. Congrats to #94 Paula!
This afternoon a trip to the store is in order. While the freezer is full, we are down to our last half gallon of milk and the fruit supply is dwindling. And there is no lettuce in sight! Dairy and produce are all I've needed to buy since I filled the freezer at the beginning of the month.
Right down the road is a Ralphs where I shop the loss leaders. And this week is a great week to do so. While I don't do corned beef cabbage, I do like cabbage in salads. This week it's $.25/pound, a great price to fill out salads with cruciferous veg. Canteloupe is on sale for $.33/pound, and blueberries are $1.50 a package.
And from now through March 14th, Kroger stores, Ralphs included, are hosting a Cart Buster Savings Event, featuring products like Honey Nut Cheerios, Pillsbury, Yoplait, Green Giant, Cascadian Farm, and more. And since I know that Coupons.com regularly offers coupons for those products, I know I'll be able to swing some good deals. This is a great way to build my food storage with foods that are good for us and that fit the budget. I've even heard rumors that flour is on sale at Kroger affiliates, so I hope to confirm that and use this flour coupon to replenish the store houses. Kroger was very generous to send me a gift card and I know that with good sales and coupons I can stretch $25 pretty far.
Today I have a $25 Kroger gift card to give away to one of YOU!
Simply leave a comment telling us what you're learning in the Frugal Pantry series or what you hope to change in your shopping. Please make sure you leave an email address in your comment so that I can contact you if you win.
Disclosure: The gift card, information, and giveaway have all been provided by the Kroger Family of Stores and General Mills through MyBlogSpark.
Want the dish on delicious ways to act your wage? Subscribe to GCE in a reader or via email.