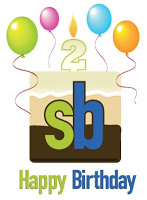 In case you haven't heard there is a search engine site that rewards you with prizes. It's called SwagBucks. When you use SwagBucks to search the web, you are randomly awarded points that when accrued can get you some fun, free prizes, like gift certificates to Starbucks, Restaurant.com, and Amazon. Over the past year or so since we signed up, we've redeemed our SwagBucks for all sorts of cool stuff. Plus, you get points for referring friends and family.
In order to celebrate their 2nd Birthday, SwagBucks has issued a special code for my readers. First time registrars can use the code FISHMAMAS when they sign up and receive 60 free points right off the bat.
Using SwagBucks can be a great way to outfit your kitchen with some new gadgets via Amazon or take your honey out for dinner or coffee.
Want the dish on delicious ways to act your wage? Subscribe to GCE in a reader or via email.