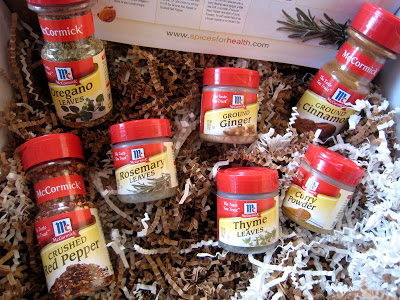 Something that no tasty pantry should be without is a nice collection of spices. Not only do they add flavor and help you reduce the "need" for sugar, salt, and fat, but spices can also boost the nutrition in the food you eat!
Today's giveaway is sponsored by McCormick, a spice company with some great ideas to help busy families feed their families "delicious and nutritious" foods. One way that you can learn more about increasing nutrition by adding some spice to your life is through the 30 Day Challenge. McCormick has devised a Super Swaps Calendar which you can use
to boost antioxidants during every meal! This calendar offers different recipes and simple tips on how to incorporate the 7 super spices into your day. Very simple additions to every day meals for moms who are busy! Spices and herbs are a quick way to power up your plate in place of sodium, sugar, and fats, helping you save calories as well as boosting antioxidants. Applying the "super swap" approach can not only improve your diet, but it is also a cost-effective way to boost nutrition!
McCormick is offering five of my readers a set of the 7 Super Spices (pictured above). Simply leave a comment, telling us your favorite spice and what you use it in.
Contest will be open until next Friday night, March 5 at 8 pm PST. Winner will be chosen at random. Please make sure you leave your email address so that I can contact you if you win.
So, how do YOU spice up your life?
Disclosure: I received a sampler pack of the 7 Super Spices to familiarize myself with McCormick's spices. I was not compensated in any other way. My opinions are my own.
Want the dish on delicious ways to act your wage? Subscribe to GCE in a reader or via email.