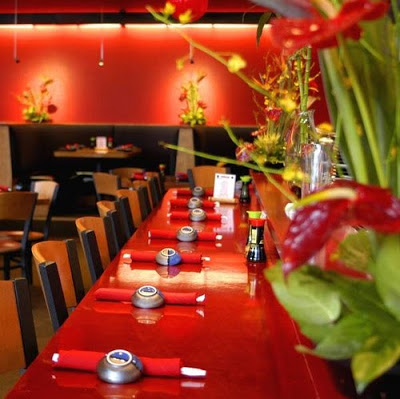 As much as I love the process of cooking, I love the process of eating more. And so when I'm too tired to do one of those tasks, I'm going to choose the eating part every time. Yet, it can be a challenge to find delicious food on a budget, particularly if you're trying to avoid the Golden Arches. I can be a Dollar Menunaire with the best of them. But, many times, especially on date nights with my husband, I'd like food that is a little step up.
We've found that though we enjoy restaurants that are several steps up in price and service aren't always that much better in taste. Lately, we've resorted to some of our favorite good cheap eateries and we've not been disappointed.
The following restaurants are those that we really enjoy, that are available nationwide, and that for the most part offer clean and friendly establishments. Sure, you're going to hit them on an off day, but it's rare that we've had a bad experience. They aren't super fancy, but they're also not super fancy. At about $6 a person, they can be a splurge for our family if we're taking ALL SIX KIDS out to eat. But, for date night? These are good. cheap. eats.
Chick-Fil-A: If you're from the South, I'm going to shock you here, but I had never even heard of the creators of the Chicken Sandwich until a few short years ago. At first I was underwhelmed, but now that I've had the chance to have free food so often, I've explored the menu to find some items I really like. (Chick-Fil-A often offers bogo deals and free food specials which our family has enjoyed taking advantage of. Each location operates differently, so check with your local CFA for details.) My personal favorite: Chicken Strip Salad with Ranch dressing, waffle fries, and all-you-can-drink freshly squeezed lemonade. CFA also offers free wi-fi which I love.
PeiWei: Word has it that PeiWei is to PFChangs what Old Navy is to the Gap, their lower-priced brand. I've never been to PFChangs, so I can't compare. But, I do love me some PeiWei. The atmosphere is casual without feeling like fast food. The portions are generous and healthy options, like brown rice, are available. They often offer free items as well, usually through their Facebook page. My husband, a huge Chinese food fan, has never found a dish that he truly loves here. He's indulged my cravings however, even though he isn't all that choked up about it. I enjoy the Vietnamese Chicken Salad Rolls. But, to be honest since I learned to make summer rolls myself, I haven't felt the urge to go back. But, it's a fun, affordable place, nonetheless.
Panda Express: This is probably one of the kids' top favorites. If the words Panda Feast cross our lips, we know we will hear the sounds of rejoicing. I currently have a debate going on with a friend whether it's a better value to buy 3 3-item dinners and split them among the crowd or to splurge on the Panda Feast. My husband insists that we're taking the kitchen scale next time to find out. Be prepared for a report at a later date. Our regular order: Chow Mein, Kung Pao Chicken, and Orange Chicken. If we're getting it to go, we like to cook our own rice in the rice cooker at home and then get an extra order of Chow Mein. This stretches for a meal and a half for our family.
Chipotle: When we lived in Kansas City, this was our regular haunt for Mexican food. We had tried so many smaller restaurants and were disappointed by the cheese sauce or the catsup-flavored salsa. (Sorry, KC friends, I must have been eating in all the wrong places.) Anyway, we came to know and love the Chipotle menu. The large portions are not diet friendly; but the taste and quality is great. Much of their ingredient list is all-natural and/or organic. This is one of our favorite date places. Though now we're back in Southern California, good Mexican food is around every corner and we don't need to go quite as often as we did when we lived in the MidWest. My favorite thing to order: carnitas with guacamole. It's pricey with the extra for the guac so I sometimes opt for the Vegetarian which includes guacamole for free. So good!
Panera: I can't remember how I discovered Panera, except that it was written up in Bon Appetit years ago and that there was one on every corner where we lived in Kansas. I guess that's how! Panera, also known as St Louis Bread Company is not to be ignored. This became my little haven of rest on Saturday mornings in KC. With free wifi and my very favorite Asiago Roast Beef sandwich in hand, I took a regular pitstop at Panera during the busy week. And I got to hang out with a good friend on more than one occasion. Still love it, though their locations are a little more spread apart in my new neighborhood.
Subway: My list of good cheap eateries would not be complete without a nod to the $5 Footlong. I've loved Subway since I was sixteen, and my friends and I would race their during our lunch hour. The sandwich shop has evolved over time and their marketing has improved. My kids love it! We don't go as a family very often as we're now a 5 footlong family – oh my! But, it's a great lunch for my husband when I forget to pack one. And it makes a delicious date night dinner, especially when we get it to go and head to the beach or a park. We both prefer the chicken breast with lots of veggies on whole wheat.
So, what about you? What is on YOUR list of "Good Cheap Eateries?"
***This is not a sponsored post. I just truly enjoy these restaurants and think they are a good value.***
Want the dish on delicious ways to act your wage? Subscribe to GCE in a reader or via email.