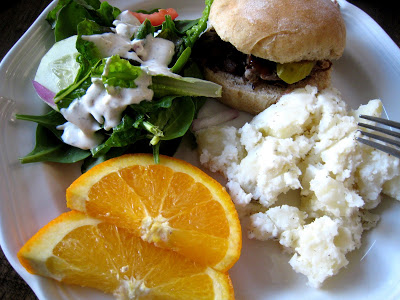 The girls (age 3 and 1) were both up by 6:15 this morning, so I was bright eyed and bushy tailed when the phone rang at 6:45. My parents were packed and ready to come see us. They surprised us with a visit! So, breakfast was a three-generation affair. I warned them we'd be eating from the pantry. When my mom got here and looked in my pantry, she said, "I'm glad to hear that your freezer is full because this looks a little empty."
Ha! She ain't see nothin' yet!
Breakfast: bacon, eggs, fresh grapefruit, and these (interesting) dehydrated hash browns my brother left behind.
Lunch: BBQ Sandwiches with Shredded Beef on Homemade Buns, Potato Salad, Orange Slices, Green Salad
Dinner: Pasta with Red Sauce, Spaghetti Squash, Green Salad, Corn Bread
Want the dish on delicious ways to act your wage? Subscribe to GCE in a reader or via email.