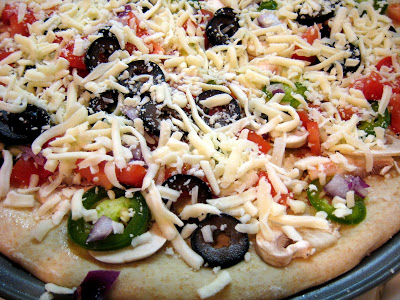 Food is still fun. And with the great haul on fresh produce today, I think we're good to go for quite some time.
Breakfast: cereal, Streusel Topped Pumpkin Pie
Lunch: frozen fish sticks, pasta salad, Cous Cous Salad
Dinner: Homemade Pizza and Salad – I made pepperoni for the kids and a Jalapeno Burn Pizza (with mushrooms instead of chicken) for hubs and me.
I must confess my bread machine and I are getting a workout. I think this is the fourth day in a row of mixing up some kind of dough. I'm a little tired of baking, but it's cheaper than buying store bread.
How are you doing on your Pantry Challenge Goals?
Want the dish on delicious ways to act your wage? Subscribe to GCE in a reader or via email.