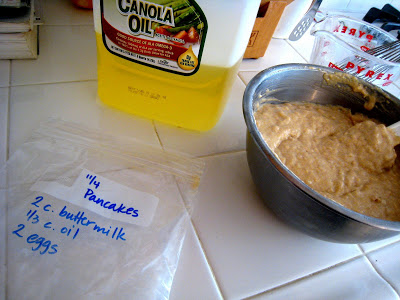 Seeing as the date on my homemade pancake mix was November 4th, I'd say it's a good thing I'm having to dig into my pantry. I love making mixes ahead of time as breakfast came together pretty easily this morning. But, I don't think the mixes are fresh for super long since they don't have preservatives in them. So, glad to use it, rather than lose it.
We're out of fresh fruit, so it seemed a good time to use the frozen fruit and make smoothies as a mid-afternoon "pick me up." I hear tell that apples are $.29/pound at a local store and grapefruit are 19 cents each. So, I think I'll run by sometime in the next couple days to stock up. In the meantime, so far, so good.
Here's what we had today.
Breakfast: Whole Grain Pancakes, Scrambled Eggs
Lunch: Crackers, Salami, Cheese, Hardboiled Eggs (hubs was at training again, so I didn't pack a lunch for him)
Snack: Fruit and Yogurt Smoothies
Dinner: Chicken Noodle Soup (made with leftover chicken from last night and broth that I made overnight in the crockpot), Whole Wheat Baguettes (took this recipe and tweaked it), Cheese, Fresh Veggies
Want the dish on delicious ways to act your wage? Subscribe to GCE in a reader or via email.