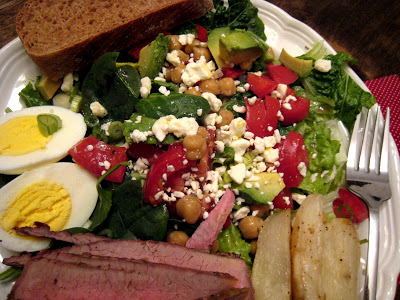 Today's been different than previous days. My husband went back to work after 10 days off. Our friends went home. The kids and I have been trying to clean things up, catch up on laundry, and get ready for back to school tomorrow. As a result of a chicken that didn't thaw, I had to take a detour from our meal plan.
Instead, we had leftovers which wasn't as bad as it sounds. Grilled tri-tip goes great in a salad! Romaine, spinach, hard boiled egg, garbanzo beans, feta cheese, tomatoes, avocados, and some sliced steak? Delish! I'll take leftovers every night.
Breakfast: cereal, leftover Slab Apple Pie, and oatmeal
Lunch: leftover pasta, fruits and veg for FishPapa's lunch; Chicken Pot Pie at home for the rest of us.
Dinner: Steak Salad, Whole Wheat Baguettes (made fresh from scratch this afternoon)
If you haven't had the chance yet, visit the Pantry Challenge Progress Report to be inspired by how others are making use of what they have. It's amazing to see how creative everyone is getting in this challenge!
Want the dish on delicious ways to act your wage? Subscribe to GCE in a reader or via email.