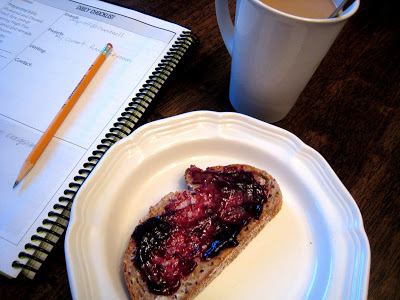 We started our day off with a little bread and jam, or petit dejeuner as we like to call it around here. FishPapa found me some cassis jam awhile back which is my very favorite. Yum! Now that's something from the pantry that I'm more than happy to use up!


Breakfast: Petit Dejeuner
Lunch: Chicken Chili and Leftover Pizza
Dinner: Baked Chicken, Mashed Potatoes, Green Salad, Whole Grain Bread
What did you eat today?
Want the dish on delicious ways to act your wage? Subscribe to GCE in a reader or via email.