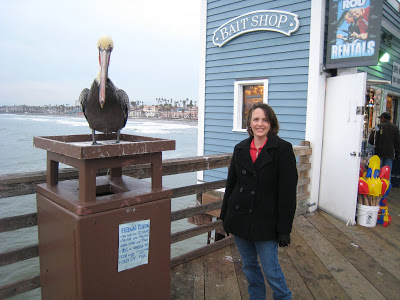 Seems like life is picking up speed around here and I'm starting to lose my focus on the pantry a little as I plan for Freezer Cooking Days and teach school and keep the house clean and get ready for my trip. Yesterday afternoon I had the kids ready to go when my husband came home, and we headed for the beach. Though it was cold and overcast by the time we got there, the sunset was absolutely beautiful, a smile from God. And we got to see this fella here up close and personal. We did some freezer cooking shopping at Costco on the way home and actually had Costco pizza for dinner. It was a quick and easy way to end the day.
Breakfast: toast, cereal, oatmeal
Lunch: Tortilla Soup for me, shrimp and rice for the kids
Dinner: Costco Pizza
Did you get a chance to share your progress? Love hearing all the wonderful success stories from the Pantry Challenge.
Want the dish on delicious ways to act your wage? Subscribe to GCE in a reader or via email.