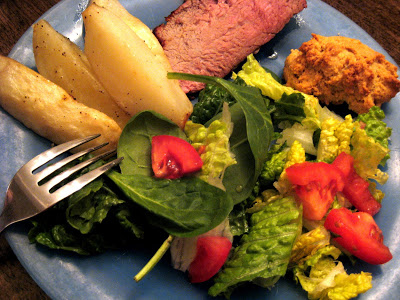 Hi, everyone! Crystal here hi-jacking Jessica's blog to give her the night off from posting since she's been running circles around me while she makes me sit around and eat food fit for a queen. (Yes, life is tough!) I figured the least I could do would be to tell you about some of the wonderful food we ate today.
But before I tell you about the food, I first have to just tell you all, Jessica is amazing. (Shh! Don't tell her I said so because she'd delete this post otherwise, but it's true!).
She's been ferrying us around to all these amazing locations in California with six children in tow and feeding us elaborate meals along the way. She can whip up delicious concoctions on the fly–all from her pantry–complete with beautiful food presentations to boot. Yes, I'm pretty sure she's a bona fide SuperWoman, if there ever was one.
After a busy two days of exploring many of the sights in California, we had a slower-paced day today filled with lots of laughter, chatting (I don't think it's possible for Jessica and I to run out of things to talk about!), taking care of children, and working together in the kitchen.
Here was our scrumptious menu:
Breakfast: fresh fruit and Lemon-Walnut Coffeecake (from scratch, of course, because Jessica doesn't really make anything that isn't from scratch. Yes, I told you she was incredible like that! She promises that she'll be posting the recipe soon.)
Lunch: Turkey Wraps, Chips, and Salsa
Dinner: Grilled Tri-Tip, Roasted Potatoes, Green Salad, Whole Wheat Biscuits, Chocolate Cake
Yum! We've been spoiled and pampered by the FishFam and are so thankful we had this opportunity to hang out with such great friends.
Editor's note: Crystal is too kind. She's been an immense blessing in providing kitchen help, great conversation and running interference with kiddos. She also has an amazing gift of hyperbole. We are, truly, a mutual admiration society. So sad we only have one more day….