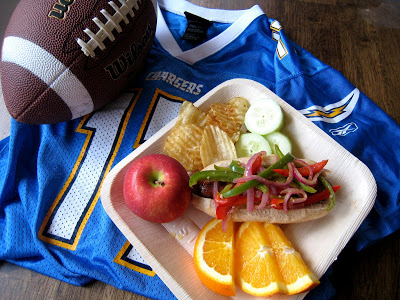 Twas a sad day at the FishHouse today. I was prepared for a victory celebration of the Chargers beating the Jets, but that never came to pass. And there are some pretty sad folk around there here parts.
And I refrained from saying, "It's just a game."
But, we did get to have some fun football food today. My coupon buddy introduced us to the idea of sauteed veggies over bratwurst. So yummy! Recipe to follow.
Breakfast: Applesauce made overnight in the crockpot, Coffeecake
Lunch: Bratwurst with Sauteed Veggies on Homemade Buns, Apples, Orange Slices, Veggies, and Potato Chips.
Dinner: Grilled Tuna and Shrimp, Quick Seasoned Rice, Caesar Salad, Garlic Bread made from the leftover buns from lunch.
Don't forget that tomorrow is the weekly Pantry Challenge Update at LifeasMOM. Come link up your successes and your fails.


Want the dish on delicious ways to act your wage? Subscribe to GCE in a reader or via email.