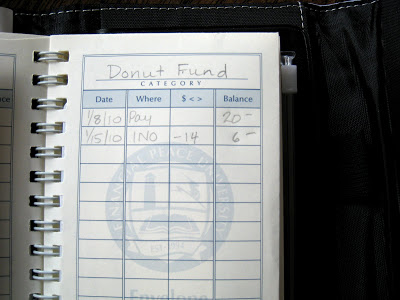 It's been a crazy week, what with three trips to dentist and orthodontist. I'm so glad it's Friday. After today's ortho appointment which was particularly long, we made our customary "after-the-ortho-run-through-In-N-Out-Burger." It's fast food that is at least made fresh, a California classic, to be sure. And since it's super close to the ortho, I can get lunch in them quickly before the discomfort really sets in. Pain is delayed in these instances.
What's funny is that after two weeks of no fast food, it didn't taste as good as it used to. Weird. In a good way, I think.
Lest you think that this fast food lunch was falling off the wagon, let me explain some of our other spending categories. In going back to cash envelopes, we've established a "Donut Fund." Though hubs and I have decided not to eat them anymore, he has fond childhood memories of getting a donut from time to time which he wants to share with our children. It's a memory-making thing that I was bucking due to budgetary concerns. But, now that it's a "planned for" category, I don't mind, and there's freedom to spend that money without feeling guilty.
Now, before y'all freak out, let me explain that the "Donut Fund" is not simply for donuts. It's that fun money for eating out. We've allotted $20 a week for our family to eat out. Obviously, with eight of us that's not going to stretch much farther than one meal. But, that's okay. We're getting into the swing of "eating from the pantry."
Breakfast: Oatmeal
Lunch: In-N-Out Burger
Dinner: Pizza and Salad
Want the dish on delicious ways to act your wage? Subscribe to GCE in a reader or via email.