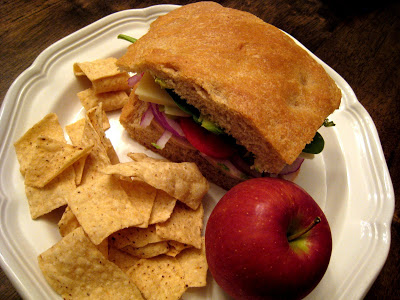 I confess, I've lost a little of my initial enthusiasm for creating "delicious and nutritious" meals from what's in the pantry. I haven't given up. But, as we approach the halfway mark, I've lost some of my mojo. I think it was the turkey and the chicken that did it to me.
But, tonight's dinner features a family favorite: Homemade Garlic Focaccia. I mixed up the dough in the bread machine, let it rise on a cookie sheet, bathed it in lots of olive oil and baked it up. I left it super thick this time so we could make turkey sandwiches with it, complete with swiss cheese, avocado, and lots of veggies. Yum!
Breakfast: Homemade Pancakes
Lunch: Leftovers, Popcorn and Apples (we'd been at the orthodontist all morning and I was too tired to be more creative
Dinner: Turkey Sandwiches on Focaccia, Chips and Apples
How are you doing on the Pantry Challenge? New to the idea? It's never to late to "eat from the pantry."
Want the dish on delicious ways to act your wage? Subscribe to GCE in a reader or via email.