The blogosphere is a funny place, you meet people who you connect with but often have no recollection of how you "found" them in the first place. Such it is with Jenna. But I'm so glad I found her! I always learn something new about healthy eating when I visit her site. She's on a mission to feed her family whole foods, something I'm only just now learning about. I am fascinated by the wealth of information there is about the nutrients we derive from the food we eat. Today Jenna shares one of her own Pantry Challenge creations. I can't wait to try these out for our family.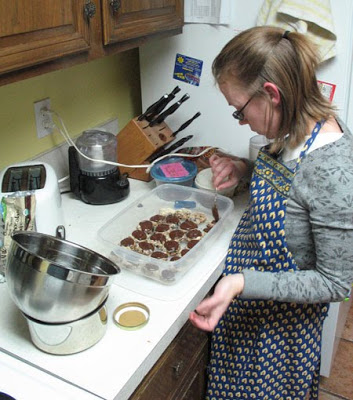 One of the most inspirational things I can do along my "growing good eaters" journey is a cooking challenge. Following suit with Jessica's "Eating from the Pantry" mission, I got to work taking an inventory of what I had to work with. Being a mostly whole foodie, the staples in my pantry might look different than most. I rarely have a trove of canned food, and end up with lots of tidbits of whole grains, nuts, seeds and dried fruit. That and a handful of baking chocolate I stocked up on before the holidays, and my current mission of more variety in snacks to serve the boys, led to the no brainer of home made granola.
Nuts are super nutrient dense and a great source of healthy fat and protein which in addition to helping stave off blood sugar related headaches for me and my oldest son also support optimal brain function.
The short story on nuts and seeds
Think of them as plant embryos. A plant is able to get the nutrients it needs to start life from the nut/seed. Nuts not only have a diverse nutrient make up, but the nutrients are in concentrated form.
Raw is better, toasted/roasted is fine as is lightly salted. Fried and overly salted nuts are right out, as are large quantities. An ounce per serving is all you need to hug your brain.
What's that? You don't like nuts. You can't eat them because they make you gag? I feel your pain. As a recovering picky eater who refused to eat nuts for more than three decades, I can attest to the power of an open mindset and overcoming food aversions. Make it a challenge, telling your brain that surely there's some palatable way you can add nuts to your diet. Give yourself months or maybe a year of experimenting. If you're dubious of this counsel, check out this list of healthy whole foods my boys eat now, that they didn't a year ago.
Chocolate Fruity Granola Bites
(based on this recipezaar recipe posted by Mama2boys)
4 tablespoons chopped almonds, toasted in a dry pan
1 1/2 cups quick cooking oats
2/3 cup dried cherries-finely chopped (I used Montmorency Cherries-a Costco snag)
1/3 cup dried cranberries, raisins or blueberries
2 tablespoons raw or toasted sunflower/pumpkin seeds
1 teaspoon cinnamon
1/2 cup organic peanut butter (or any nut butter)
1/4 cup honey (raw unfiltered)
1/2 teaspoon vanilla/almond extract
3 oz chocolate chips
Combine oats, nuts, seeds, fruit and cinnamon in one bowl and stir. Combine peanut butter, honey and extract in another bowl. Heat the nut butter for 30 seconds in the microwave if it was in the fridge, or it's thick. Combine the peanut butter and oat mixture and mix, hands permitted. Roll out 1 inch balls and flatten slightly. Place in an airtight contain separating layers with wax paper. Refrigerate 4 hours to let moisture soak into oats. Chocolate topping: In a double boiler melt chocolate chips. Dollop on and smooth out a teaspoon of melted chocolate on each refrigerated granola bite. Place granola bites on sheet pan. Let chocolate set thoroughly and return to airtight container. Keep refrigerated. (depending on size) Makes 18-36.
— At Food with Kid Appeal, Jenna blogs about her journey to feed her family whole food and grow good eaters with the obstacles of high food costs, a demanding day job. Follow her on her mission to nourish her carnivore Hubby, and two sons: unfamiliar-food-protester 5 year old Big Boo and picky-palate 3 year old Little Boo.
Want the dish on delicious ways to act your wage? Subscribe to GCE in a reader or via email.