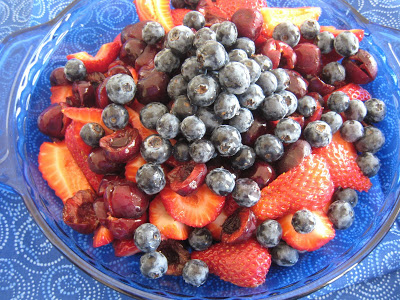 Many people make goals each January 1. I'm no different. I have books and journals full of lists that I've created over the years that reflect the hopes and dreams I entertain each December. Sometimes I see those to completion, sometimes I forget all about them.
This year I've created a list of several goals I have for all areas of my life. Two goals specifically address the kitchen and our family budget.
We're eating from the pantry this month. In an effort to curb our grocery spending and put a little more margin in our budget this month, I'm going to focus on using up what we have already in the pantry, fridge, and freezer. I still have meals in my freezer from the Once-a-Month-Cooking I did in early December and even November! These will serve as the basis for breakfasts and lunches for the kids and me.
Our eating habits are getting a makeover. While I think that we already eat a fairly healthy, balanced diet, my family and I are making some changes. Due to a number of health concerns brought up by the family doctor, we will be cutting processed sugars, fat, and cholesterol and increasing our whole grains, lean meats, and natural sweeteners. My grocery budget doesn't really like this. The truth of the matter is that it's cheaper to buy food that isn't the healthiest. What a strange paradox! This doesn't make healthy eating impossible. But, it does change the degree of my learning curve.
It also gives new meaning to the name of this blog as well as a blogging goal for the year. The good in Good (& Cheap) Eats now not only signifies tasty, but it's also going to represent a healthier (better?) way of eating. I hope you'll join me for the journey as I try to feed my family healthy, happy food — on a budget.
** For more money resolutions, visit Frugal Friday and to be inspired by the 2010 Goals of others, visit The Happy Housewife.