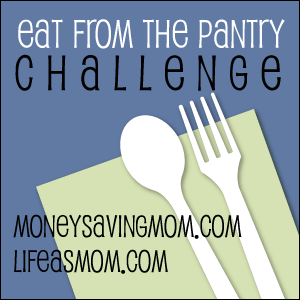 For the last couple months, my friend Crystal and I have been "cooking up a storm" at the beginning of each month and storing what we've made in the freezer to use throughout the coming weeks. This "once-a-month" cooking venture has saved us loads of time and money. It has been fantastic to go to the deep-freeze every couple days and pull out the makings of the next few days' meals.
This month I went a tad overboard and have a lot left in my freezer as well as the fridge and cupboard. Crystal also reports quite a bit left in her stores. That coupled with the fact that Crystal will be spending New Year's with me has prompted us to do something new for January. The first month of the year is a great time to take inventory, make goals, and move forward. We're simply taking this concept into the kitchen. Join us as we spend the month of January cutting back and using up what we have in the fridge, freezer, and pantry.
I'll be posting my creative culinary endeavors here at Good (&Cheap) Eats and giving a daily update as to what we're actually eating. (This should prove quite interesting.) But, I'll also be sharing general tips and suggestions as well as my grocery geek adventures over at LifeasMOM. I hope you'll not only follow along, but also be inspired to see where you can cut a few corners in January to give yourself a little more freedom in February.
Out with the Old, In with the New!
If you're not already, you may want to subscribe to GCE in a reader or via email. And follow along at the Eat From the Pantry Challenge Facebook page.