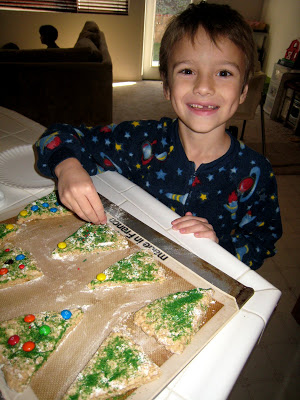 I'm kinda goofy in that (among other reasons) I love to make fanciful food for my kids. Fun birthday cakes, star-shaped cake pops (sort of) at the 4th of July, turkey-shaped cinnamon rolls at Thanksgiving, and this week: Christmas Tree Scones.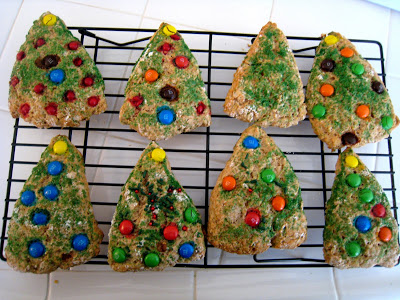 These are so easy to make and the kids loved "decorating" their trees. This would be a great Christmas morning activity. Festive, hearty, and a little bit sugary.
Here's what you'll need:
1 cup unbleached flour
1/2 cup whole-wheat flour
1/2 cup quick-cooking oats
1/4 cup brown sugar
1 Tablespoon baking powder
1/4 teaspoon salt
1/4 cup butter, cut into pieces
3/4 cup buttermilk
1 egg
1 teaspoon vanilla extract
green sprinkling sugar
M and M's or other candy for decorating.
Measure flours, oats, brown sugar, baking powder and salt into the bowl of food processor fitted with metal blade. (Adults only should handle metal blade.) Secure lid and pulse briefly to mix. Add butter pieces and process until coarse crumbs are formed. Pour crumb mixture into a large mixing bowl.
(If you do not have a food processor, the same effect can be achieved in a mixing bowl with a pastry blender, fork, or two table knives held together.)
In processor bowl, combine buttermilk, egg, and vanilla extract. Slowly pour wet ingredients into dry crumb mixture and stir quickly, just until dough forms. Overmixing will result in tough scones. Empty dough onto lightly floured surface. Knead three or four times with floury hands. Dough will be sticky. Shape dough into large, flat round.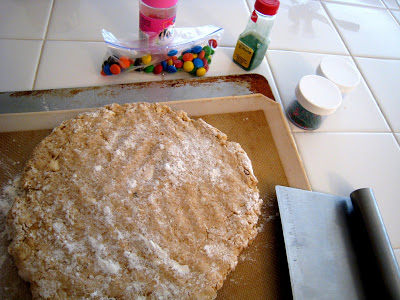 Cut into eight wedges. Sprinkle heavily with green sprinkling sugar. As you separate the wedges, flatten the rounded side so that it forms the bottom of a Christmas tree. Place the eight trees equally spaced on ungreased baking sheet. Allow children to decorate their trees with candies. Bake for 15-20 minutes at 375 degrees.
To freeze: Freeze scones before baking by placing the baking sheet in the freezer. Once hard, remove them from the pan and store in an airtight container. Bake from frozen, adding 5 minutes to the baking time. Alternatively, store cooled and baked scones in an airtight container in the freezer.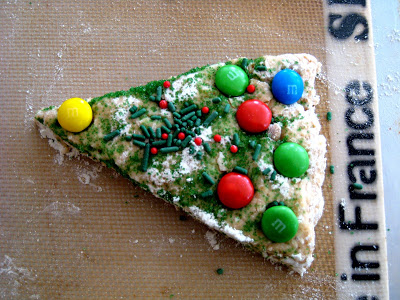 What's a fun Christmas breakfast that you make?
**Check out more tasty tips at Beauty and Bedlam.