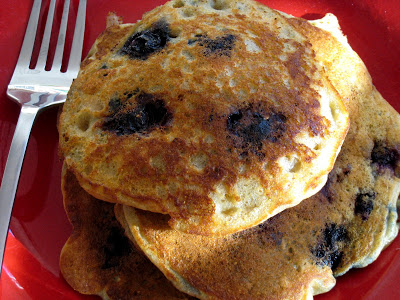 This is one of my favorite recipes to "make ahead" as a mix. Simply combine the dry ingredients in a quart-size ziptop bag, label w/ the wet ingredients and stash until the mood for power-packed pancakes strikes.

Multi Grain Blueberry Pancakes
inspired by a recipe found in the Pillsbury Complete Cookbook
Dry Team (can go in ziptop bag)
3/4 cup whole wheat flour
1/2 cup unbleached flour
1/2 cup cornmeal
1/3 cup quick cooking oats
3 Tablespoons sugar, brown sugar, or sucanat
2 teaspoons baking powder
1 teaspoon baking soda
1/2 teaspoon salt
Wet Team (can be added prior to cooking)
2 cups buttermilk
1/3 cup oil
2 eggs
1 cup blueberries
In large mixing bowl, combine dry ingredients, whisking to combine. If it's already bagged and ready to go, just go to next step. In other bowl, combine wet team. Add dry team to wet ingredients and stir just until mixed. Some lumps are okay. Fry on hot, oiled griddle until brown and cooked through.
To make-ahead: prepare the recipe as a dry mix, adding the wet team on the day of serving. Alternatively, you can freeze cooked and cooled pancakes. Just wrap short stacks in plastic wrap and place in a ziptop freezer bag.